DigitalMarketer is one of the most recognized companies in the digital marketing education niche. And one of the most profitable ones!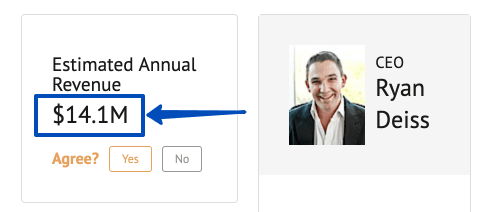 It also:
Hosts the North America's largest marketing conference with 6,000+ attendees
Gets 1.1M+ monthly visits and $205K-valued monthly organic traffic to its site
Has an outstanding 40% landing page conversion rate
To figure out how DigitalMarketer achieves all this, I've completely reverse-engineered their own marketing.
I even visited their conference and bought all of their primary courses (which are $5K+) to identify what they do exactly, and describe their success strategies, so you could apply them to your own business.
Table of Contents
1. The #1 Best Way to Build a Brand
A simple check of the DigitalMarketer's traffic sources shows that …

… most of the traffic is direct (~650k visits/mo), and their top 3 organic search terms (~34% of all organic visits, ~73k visits/mo) are brand-related.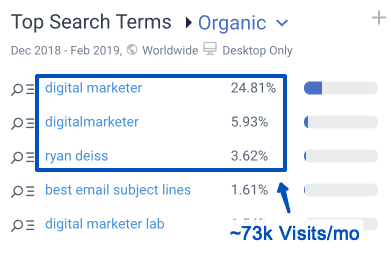 This means that DigitalMarketer managed to create an exceptionally strong brand to drive their growth. 💎
How did they achieve this?
Here's how CEO and Co-founder Ryan Deiss himself answers this question at Traffic & Conversion Summit 2018/2019:
"Community is a new brand."
That's why DigitalMarketer runs two distinct communities in closed Facebook groups: DigitalMarketer Engage (~13.5K members) and DigitalMarketer ELITE Commons (~1.4K members).

By "community," I mean a segment of people who form personal relationships as a result of shared goals, experiences, and interests.
So why creating a community works so well for building a strong brand?
Because we live in a time of trust crisis, where social proof is vital for making a sale. And a unified community of REAL people is an amazing social proof signal!
Both DigitalMarketer's communities are available only to the customers. Which means in order to join you have to provide the email address. (All join requests are checked and approved manually.)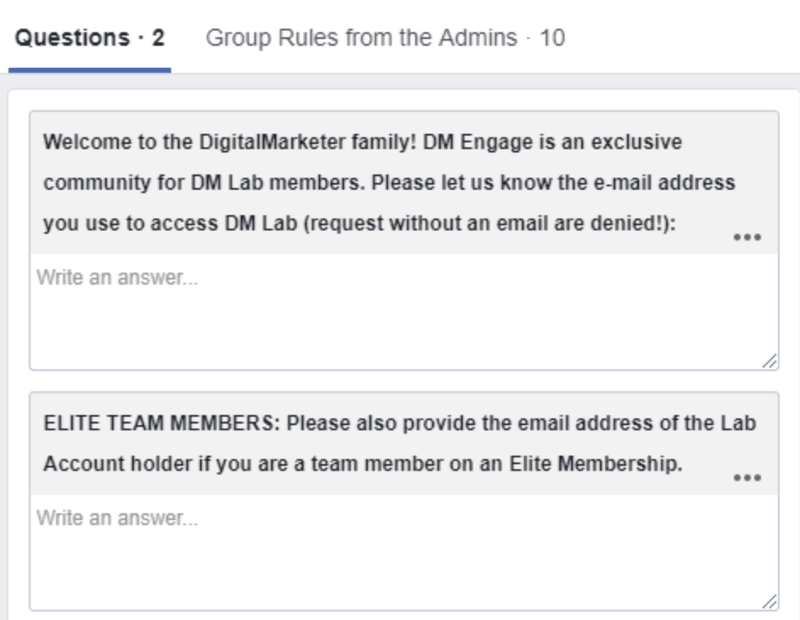 This intentional exclusivity makes members feel more connected and involved, which then leads to more activity and open-mindedness within the group.
You can do the same yourself, simply inviting your current customers into a new closed Facebook group.
When doing this, you can expect about 50% of your customers to actually join the group, as Facebook's Community Strategist Suzi Nelson reveals in the DigitalMarketer's "Community Management Mastery" course.
Because this will be an exclusive, closed group, even a small number (like 100) of joined members would be enough to make the group active.
Key Takeaway: Build an exclusive, closed community to create a strong brand.
2. The 12-Months Email Marketing Strategy that Makes Every Message Relevant
"Email Marketing yields an average 4,300% return on investment for business in the United States"
– Direct Marketing Association
DigitalMarketer fully understands the importance of Email Marketing, as evidenced by the ~62k monthly visits they land from emails:

What's the DigitalMarketer's core idea about the email marketing?
Here's what Richard Lindner, the President & CMO of DigitalMarketer (and the guy responsible for generating over $20MM in yearly revenue from email marketing alone) reveals in his "Email Marketing Mastery" training:
"The role of Email Marketing (in any business) is to assist in moving a customer from one stage of the customer journey to the next"
And DigitalMarketer is incredibly strategic with this kind of assistance, as they plan their email campaigns 12 months in advance!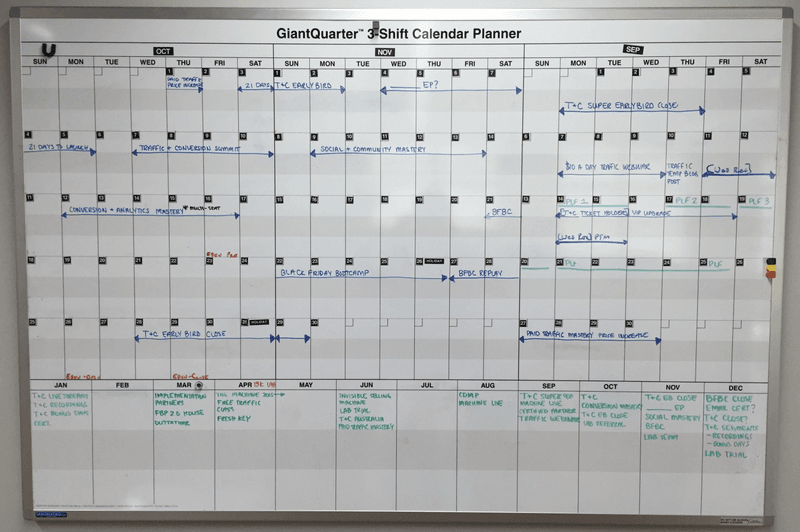 This allows them to prepare their holiday promotions, so that subscribers consistently get well-written, timely emails: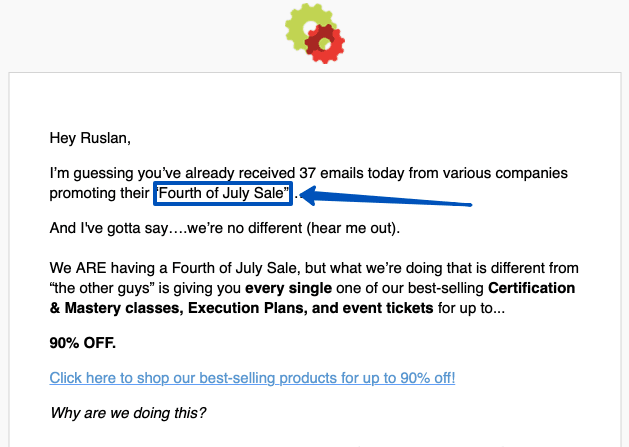 Besides being highly relevant, this kind of promotion offers another useful quality. As it's associated with a holiday, it has a REAL (not a "fake" evergreen) deadline, which is a natural scarcity booster that can drive more sales.
What's more – DigitalMarketer generally sends at least 2 or 3 relevant marketing emails for each promotion.
For example, after 2019's Traffic & Conversion Summit ended, DigitalMarketer created a digital product containing the official notes for all 96 conference sessions. And they sent more than 5 different emails to promote it:
Mar 18: "Ruslan, T&C 2019 Notes are now available to pre-order!"
Mar 19: "T&C 2019 Notes: Less than 1/10 the price of a ticket?"
Mar 20: "Hold T&C 2018 in the palm of your hand?"
Mar 21: "[CLOSING] T&C Notes PRE-SALE closes at MIDNIGHT"
Mar 22: "[LAST CALL] ⏰ T&C Notes pre-sale closing in 3…2…1…"
These emails, by the way, are only regarding a pre-order series. While we're putting this article together, the actual product they're offering isn't even ready yet!
Why are they sending so many emails for the very same offer?
Because, as demonstrated in the subject lines above, they're gradually pulling totally different sales triggers. Some subscribers respond better to exclusivity, some need the fear of missing out (FOMO), and others just enjoy a good sale. 👌
Implementing this kind of promotional campaign is only possible if you plan it out ahead of time. You need to take a big-picture approach, treating the emails as a collective series instead of individual units.
Key Takeaway: Plan your Email Marketing in advance to properly prepare holiday, annual, and seasonal promotions.
3. The 2 Biggest Mistakes Most Marketers (but not DigitalMarketer) Make When Building Their Email Lists
Marketing is often a trial-and-error journey. And small mistakes can prove helpful in directing you forward.
But sometimes, errors can be too costly to benefit your strategy.
So let's learn these mistakes – and how to avoid them! – from the email marketing rockstars themselves:
Mistake 1: Not following up with new subscribers
What do you do when a new visitor subscribes to your newsletter? Do you send them welcome emails to establish a connection?
As a matter of fact, most marketers DON'T send introductory emails despite them being vital to building customer relationships.
But – when you subscribe to DigitalMarketer, not only do they send you a welcome email, they send you a whole welcome series!
Here's what this series looks like:
Instantly: "Welcome to DigitalMarketer! Here's where to start …"
The first email explains the company mission, prepares recipients for further emails, and asks to whitelist their email address so they won't be marked as spam.
Day 2: "You're in our family. Now let's be friends."
The second email promotes DigitalMarketer's social media accounts and invites readers to follow. This email concludes with a cliffhanger promise of free gifts in the next email. (This is often called the "Soap Opera" method.)
Day 3: "I'm keeping my promise…"
The third email gifts a relevant freebie product and again promises to send even more in the next email.
Day 4: "Get my entire marketing library for $1?"
This email actually offers to start the DigitalMarketer Lab subscription trial.
… (and the funnel just keeps going!)
What's great here is that each email gradually turns a subscriber from a total stranger to a loyal customer.
And once created, such an enticing welcome sequence can bring amazing value to you and your customers over and over again!
Mistake 2: Sending the same bulk emails to everyone
Imagine: You have a massive list of over 100,000 subscribers, but all you know about them is their email addresses… And, perhaps, their names.
Is this a good list?
Most probably, NO.
Each subscriber is different. And if your list doesn't take this into account, all you have to do is to send the same general emails to everyone.
Which means most of the subscribers would get offers that aren't relevant at all.
How to solve this?
Instead of a one-size-fits-all approach, DigitalMarketer obtains as much data about their prospects as possible.
At first, they acquire the general info: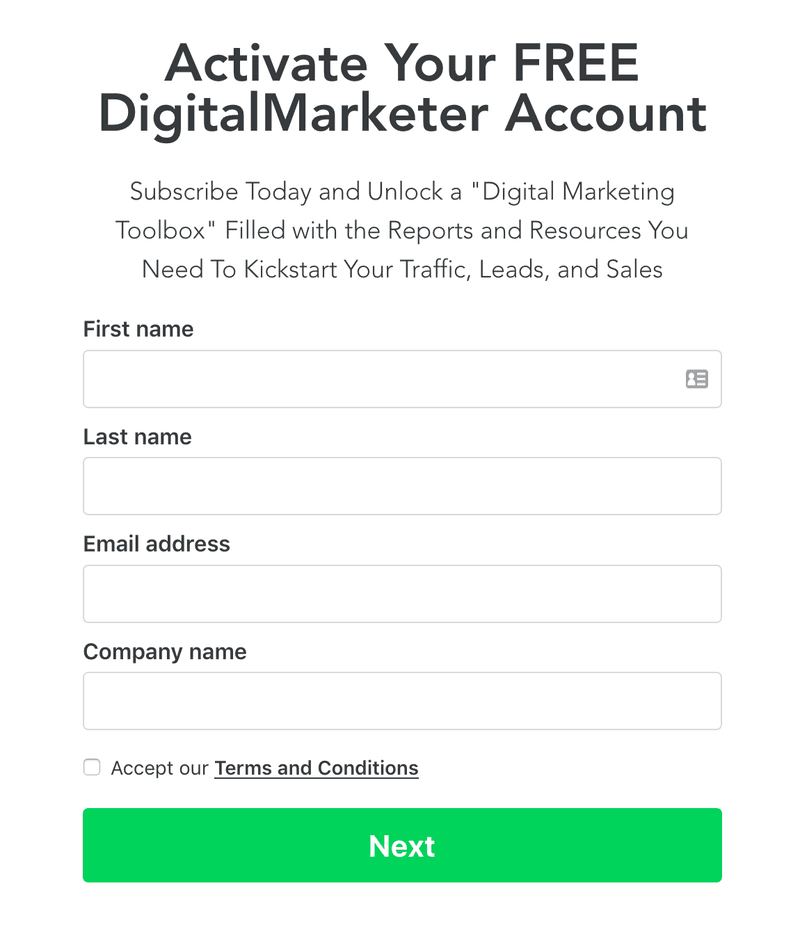 But then the magic begins. A new subscriber can describe self, so DigitalMarketer would assign the relevant buyer persona, and personalize the further emails.
Last but not least, they qualify their leads so that they can direct their focus on the most profitable ones:

Together, these steps improve the structure of the subscriber database. Which makes it considerably easier to send highly personalized offers to the proper recipients.
For example, if DigitalMarketer decides to run a special promotion for large agencies, they can easily direct their emails exclusively to that segment of the list.
You can achieve the same result using on-site online surveys. With them, you can automatically collect the needed data about your new and existing subscribers. Here's a simple step-by-step guide on how you can auto-segment 5.8% of your site visitors.
Key Takeaway: Properly welcome your subscribers and try to learn more about them to make your email promotions relevant.
4. The Email Copywriting Formula that Skyrockets Open- and Click-Rates
Have you ever read any of the DigitalMarketer's newsletter emails?
They're copywritten as though their CEO Ryan Deiss were your old buddy telling you a story in person. (You can even hear his tone of voice in the emails.)
How do they achieve this? Mostly by intentionally oversimplifying the text.
For example, if you check DigitalMarketer's latest email in the Hemingway writing app, you'll see the readability is at a 6th-grade level: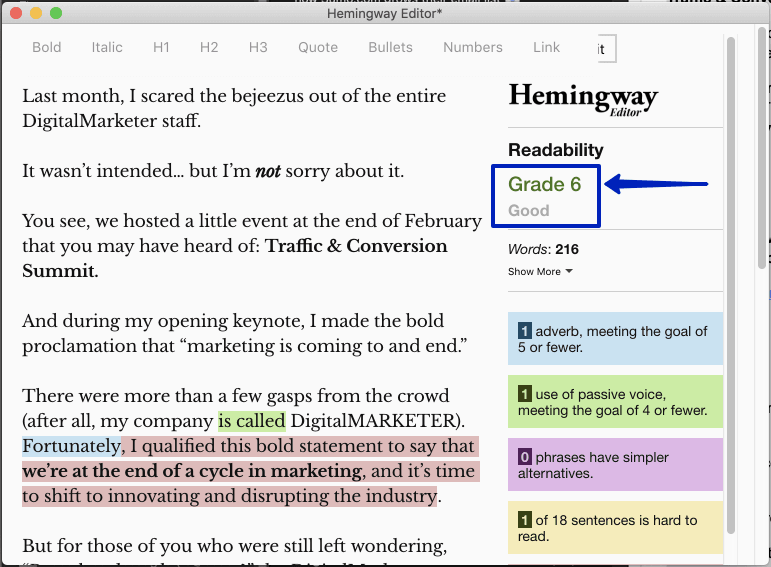 That's what makes it so incredibly easy to read!
However… Oversimplified text isn't always that fascinating.
What Ryan is actually doing is flirting with the subscriber. He's exaggerating, using subtleties, and teasing readers (without offending them).
What's more, every email is filled with emotion.
Ryan does so by generously adding animated GIFs to emails. Just like this: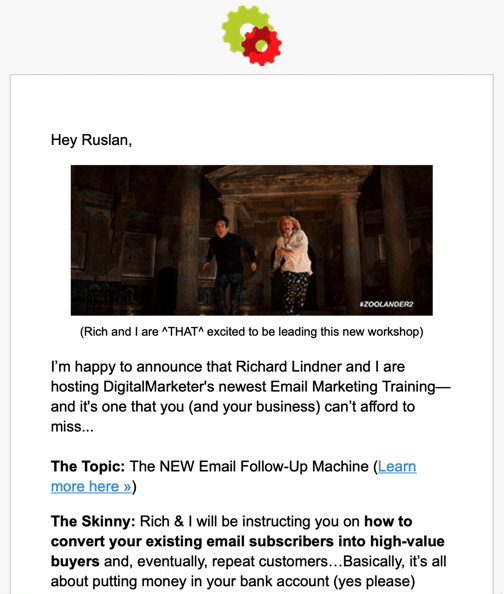 Finally, every email is sent directly from "Ryan Deiss – DigitalMarketer." As opposed to a noreply email address, which can legitimately hurt your email marketing strategy.
Key Takeaway: Make the email newsletter personal, emotional, and simple to read.
5. The #1 Scarcity Booster You Can Use in Email Marketing … for Free!
Most of DigitalMarketer's email promotions have a specific deadline.
And DigitalMarketer makes these deadlines more real by embedding corresponding visual representations – animated countdown timers.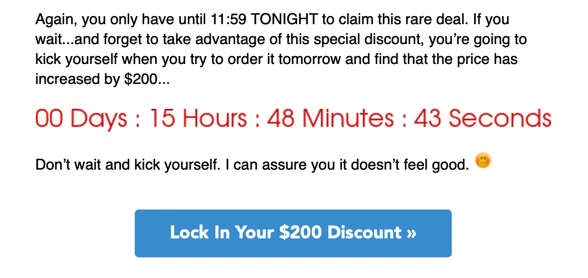 These are the best way to shape subscribers' expectations. (Especially when these subscribers are in different timezones.)
Once the promotion is over, the animated GIF gets replaced with the following sign: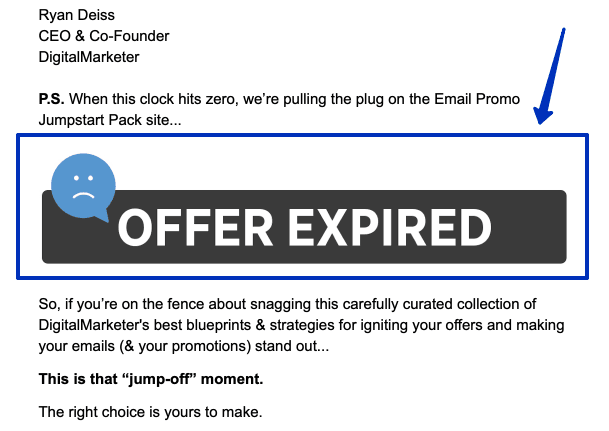 Thanks to this expiration date, every person who missed this promotion will know it was a real thing. And when the next promotion comes, he/she will think twice before letting it pass by. 👌
Key Takeaway: If your promotion has a deadline, place an animated countdown timer to the relevant email campaign.
6. The Lead Magnets Model that 10x's Traffic-into-Customers Conversion
One of the best ways to build an email list is by using lead magnets – small pieces of useful content you offer in exchange for a visitor's email.
DigitalMarketer has grown a massive email list, mostly by creating 22 different lead magnets, and offering these lead magnets in relevant blog posts and articles.
For example, in one of their most popular blog articles, "How Digital Marketing Will Change: 17 Predictions for 2019," they offer lead magnet "Customer Avatar Worksheet":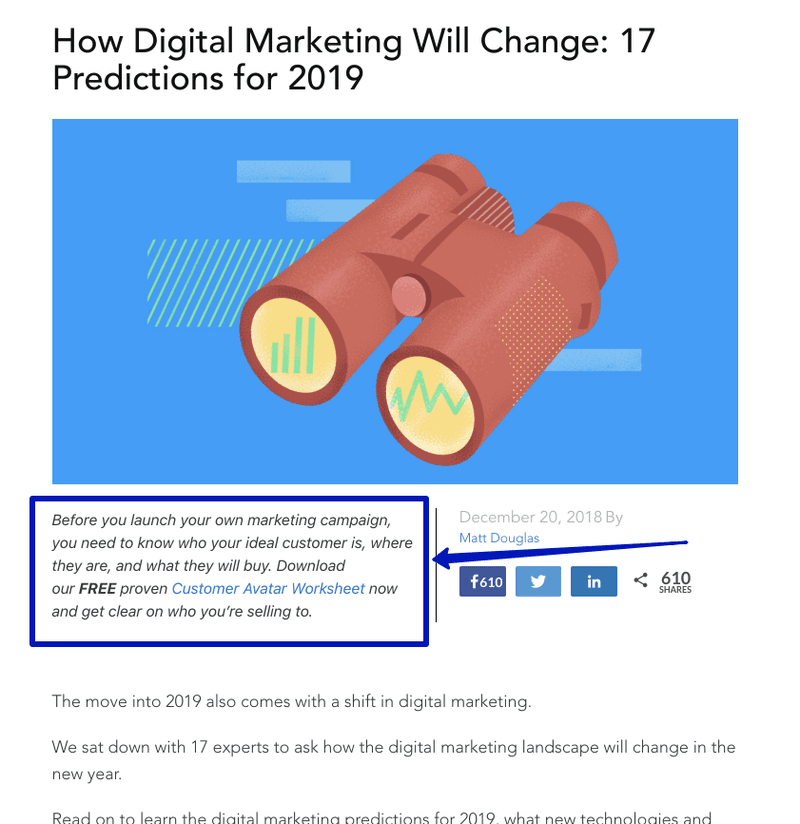 And they even have a separate page where they list ALL their lead magnets for direct selection:
What makes DigitalMarketer's lead magnets especially great is that each one is a small specific chunk of content from a core product.
…Which means that when the leads consume such content, they also receive a natural promotion for one of these core products!
And just last year, DigitalMarketer took this strategy to the next level:
Initially, they offered a single specific downloadable lead magnet.
Next, they shared a specific lead magnet as a part of free membership in their membership portal, which they call DigitalMarketer Lab.
Simply speaking, here's what changed: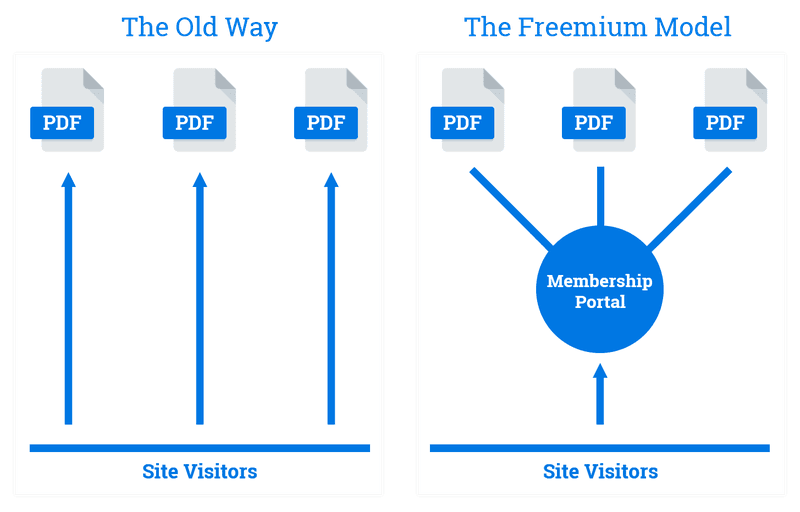 The results? Just impressive: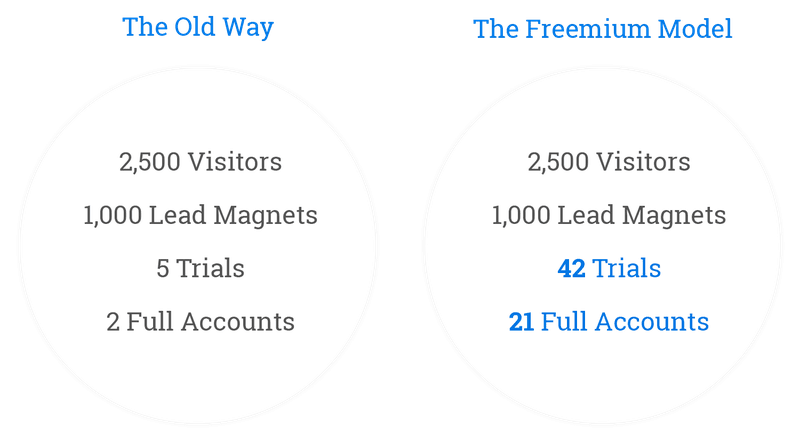 Data Source: Traffic & Conversion Summit 2019
The new way basically 10x's the visitor-to-customer conversion. Outstanding!
Key Takeaway: Use ultra-specific parts of your core product as your lead magnets. If you have a membership portal, host your lead magnets there.
By the way – If you have a membership portal, you can use Convertful widgets to create content upgrade forms that will sign up visitors to your membership portal. Just select "Send data to URL" on your submit action. Feel free to reach us via support ticket if you need our assistance in setting this up.
7. The 4 Quick Lessons to Learn from the Landing Page with a 40% Conversion Rate
Though DirectMarketer's relative share of paid search traffic may seem a bit low, in absolute numbers it's still roughly ~5k monthly visits:

And ALL of this traffic funnels to a SINGLE landing page:
…Do we even have to say that this page is optimized for paid traffic?
And here's what's most impressive: it enjoys an AMAZING 40% conversion rate!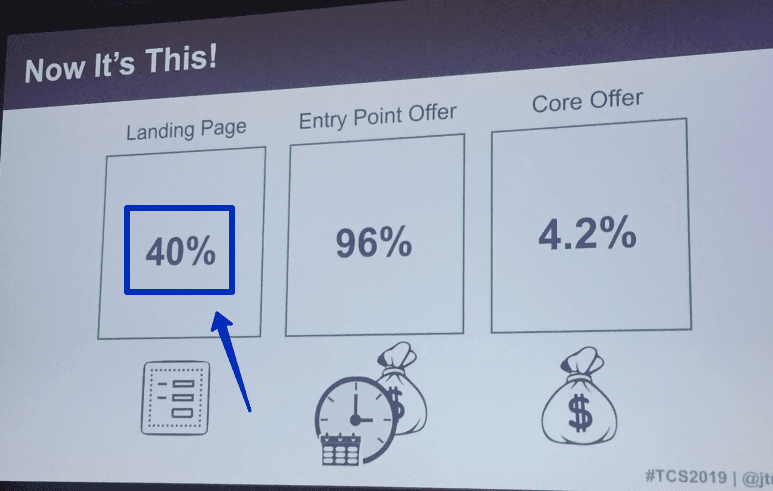 The photo is taken at Traffic & Conversion Summit 2019
Let's find out exactly what drives these results.
For starters, let's examine the first screen you see on desktop and mobile (as this is the most important part of a landing page).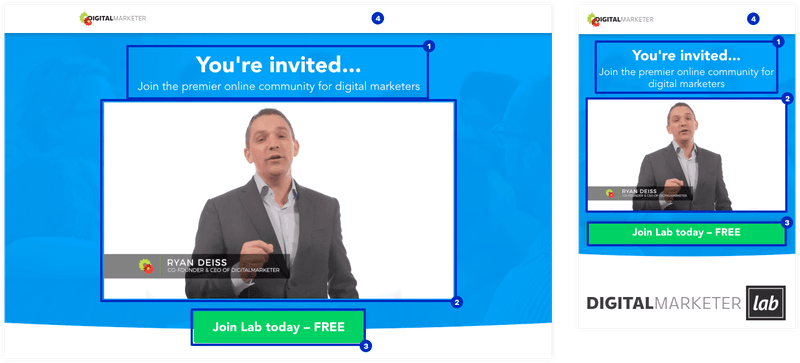 Lesson 1: Compelling Headline
Do you notice anything unusual?
How about this: Their headline doesn't match ANY of the major headline formulas (i.e. "how to XXX without YYY" and such).
It's extremely short and simple, but it was proven to work on the target audience.
In fact, these words were forged through a series of A/B split tests, which DigitalMarketer constantly performs.
So – If you're choosing between a proven formula and a test-approved result, go with the latter. 👍
Lesson 2: Hero Image
…Or, rather, a video.
As most people are visual learners, the best way to sell to them is by actually showing the product.
Ryan himself presents the DigitalMarketer Lab as though the visitor is already signed up and logged in. And what's more, he does this in the form of a story.
What make stories so great is that, whether you believe them or not, you can't argue with them.
Combining your product showcase with a compelling story is one of the most powerful landing page strategies.
Lesson 3: Strong Call-to-Action
When it comes to CTAs, what matters most is placing the button above the fold.
In other words, make sure it's visible on the first screen without needing to scroll – both on desktop and mobile.
… Especially on mobile:
"Mobile or die," Perry Belcher said at Traffic & Conversion Summit 2019. "The button should be above the fold, or you get a 50% reduce in the conversion rate."
The final lesson here: The best landing pages don't have general site navigation.
This ensures that visitors don't stray from the landing page. Instead, they'll focus on the primary CTA and, ultimately, increase the page's conversion metrics.
Key Takeaway: Use separate landing pages (instead of general site pages) for paid traffic. Follow the landing page best practices to maximize conversion rates.
8. How to Instantly 5x the Product's Perceived Value at $0 Cost
In his book, "Experts Secrets," Russell Brunson highlights one of the keys to maximizing purchase rates:
"The goal is to show that you're giving 10 times as much value as you're asking for in price."
– Russell Brunson
And while Russel simply writes an "($XXX value)" near the product price, DigitalMarketer takes it a step further.
They define two different prices for their products: a general price and a sales price.
For example, each of their Certification courses is normally priced at $495, but during a sale, they drop to $95.
This allows DigitalMarketer to honestly say that during a sale they offer a product at 80% discount: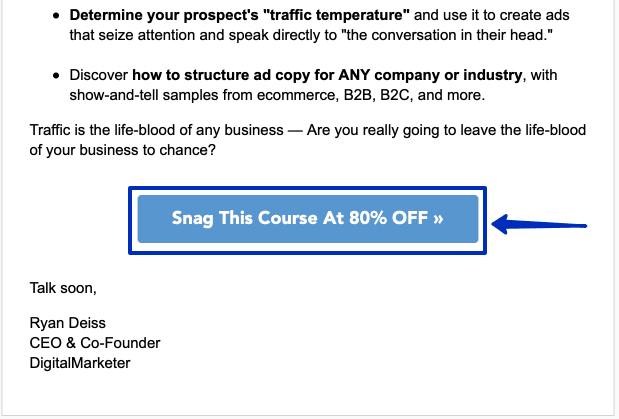 Because the DigitalMarketer team pre-plans these email marketing months in advance, they can easily schedule 6 – 10 such promotions throughout the year.
Such campaigns have become one of their most potent sales strategies. And as for the customers, they get to boast that they've passed a $495-priced certification (without actually paying nearly as much).
It's truly a win-win deal!
Key Takeaway: Define both a general and a sale price. Show the general price during your sale to increase perceived value.
9. The Unconventional SEO Strategy that Drives $97.6K-Worth Monthly Organic Traffic
You might think a blog is the best way to publish educational content for Inbound Marketing purposes, right?
Well… You'd be wrong.
The cornerstone of Inbound Marketing is gathering organic traffic from search engines.
This means your content should be optimized so that search engines can better "understand" it.
And while HubSpot suggests grouping blog content into topic clusters to achieve this, a much better method is actually creating a site hierarchy.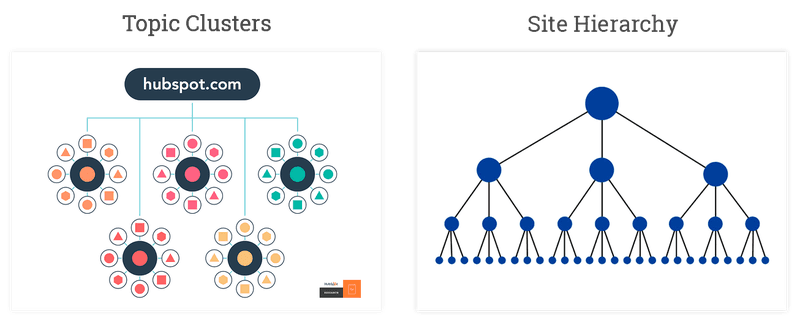 While defining a logical site hierarchy, you can provide more reasonable navigation for each of the topics (and subtopics).
For example, check out what Moz recommends as the SEO best practice for URLs:

This approach allows search engines to interpret your website's structure and offer the most relevant content in its search results.
And DigitalMarketer understands this, as evidenced in their Ultimate Guide to Digital Marketing.
Just look at how well-structured this guide is:

You have your meta-topic – "digital marketing". And branching off that are the subtopics which, as the hierarchy keeps growing, can eventually get their own subtopics.
All of this provides intuitive topic navigation for visitors (and it creates a clear structure for search engines!):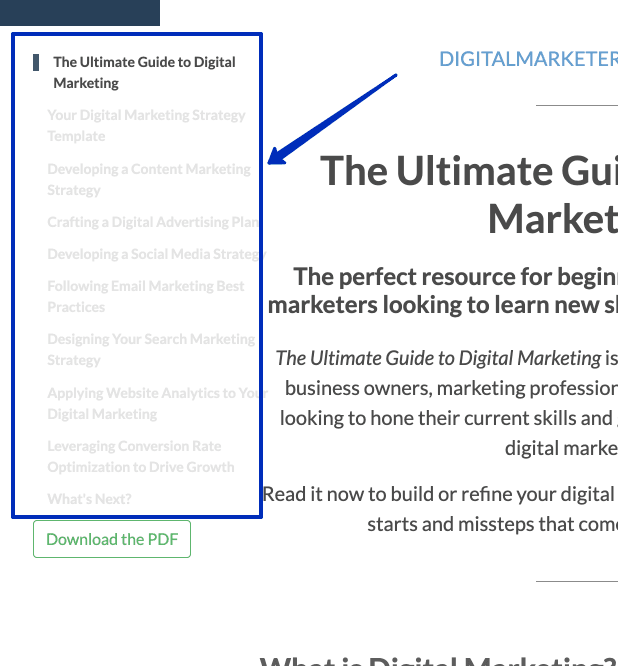 That's what it looks like on their site. So what's the actual result?

The whole guide (including children pages) receives nearly $100K worth of value through organic traffic visits.
… And this is only the beginning of the returns that their Inbound Marketing will bring!
Key Takeaway: Structure your educational content into a logical hierarchy.
9 Key Takeaways from DigitalMarketer's Success:
Build an exclusive, closed community to create a strong brand.
Plan your Email Marketing in advance to properly prepare holiday, annual, and seasonal promotions.
Properly welcome your subscribers, and try to learn more about them to make your email promotions relevant.
Make the email newsletter personal, emotional, and simple to read.
If your promotion has a deadline, place an animated countdown timer to the relevant email campaign.
Use ultra-specific parts of your core product as your lead magnets. If you have a membership portal, host your lead magnets there.
Use separate landing pages (instead of general site pages) for paid traffic. Follow the landing page best practices to maximize conversion rates.
Define both a general and a sale price. Show the general price during your sale to increase perceived value.
Structure your educational content into a logical hierarchy.