The most important assets to your sales team are your customers.
Sound insane?
Well… It's not. Especially if you know how to use the Social Proof sales trigger.
Social proof is a psychological phenomenon: When people see that a product brought value to others, they're more likely to take action themselves.
You've likely witnessed this – most websites out there use social proofs. And it's no wonder why: some 70% of consumers won't make a purchase without seeing social proof. Products with reviews, on the other hand, can result in 18% more sales.
Yet, while social proof is clearly vital, companies often fail to consider the best ways of implementing it.
That's why we've outlined the 7 most effective types of social proof with guidelines on when and how to use them. With the right one on your landing page, you'll be able to provide your website visitors with added credibility. And, if done right, you'll see your conversions skyrocket.
1. Customer Testimonial
The testimonial consists of a brief comment (2 – 4 sentences) with relevant photos.
Its message must stress exactly how the product will help them – on both an emotional and practical level.
As for the industry it best suits, the testimonial is truly a must-have for every product type. After all, it has been proven to be the most effective social proof.
Part of what makes testimonials so useful is the genuine insight they display. So don't undermine that with stock photos – they're easy to spot and instantly hurt your legitimacy.
Instead, take a page of out ChowNow's book. Their testimonials take the form of direct quotes bolstered by video elaboration:

If you're just starting out and don't yet have testimonials, it could be worth offering your product for free to a select audience. Instead of paying, they'll contribute to your reputation.
2. Customer Review
Though similar to the testimonial, a review consists of several paragraphs of commentary with added photos.
Its advantage is in explaining all the stages of an entire experience from start to finish.
This makes it particularly useful for products that demand either a lot of time or a lot of money. Think: Online courses, certain software, and long-term retail products like homes and cars.
Here, the process is just as important as the outcome. So make sure to provide thorough insights. Your shorter testimonials can rely more on emotions, but your reviews have a more pragmatic goal.
For instance, MotorTrends features a review of the 2018 Nissan Kicks equipped with data-driven analysis and image support: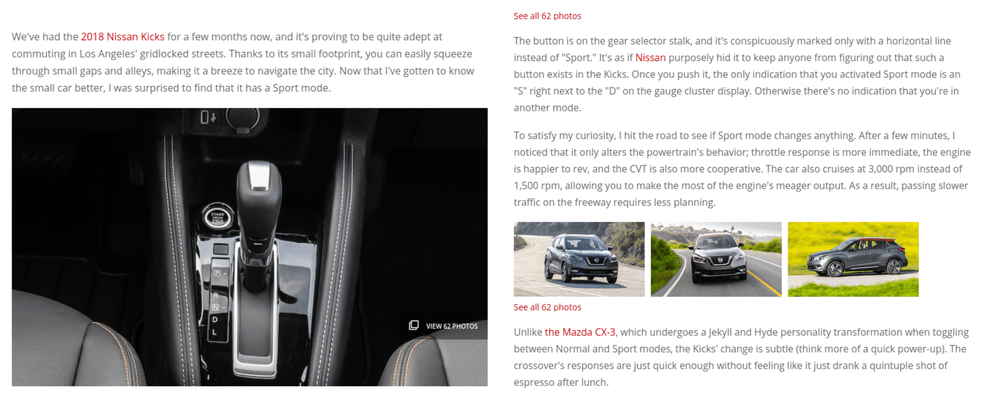 3. Expert Review
Going a step beyond customer reviews, this social proof quotes industry experts to establish the quality of your product.
Ideally, they'd give in-depth reviews detailing the extent to which your product helped. But even quick comments like "This company is doing great things!" go a long way in demonstrating your reliability.
These reviews best suit sectors such as SaaS and B2B where expertise is especially valued.
That said, make sure you actually know your clients' role models. This type of social proof only works if customers know these experts and are ready to listen to their advice.
One such example is solar cooking company SolSource, which was backed by Mark Cuban on Shark Tank and has received praise from big-name sources like Tesla and Huff Post: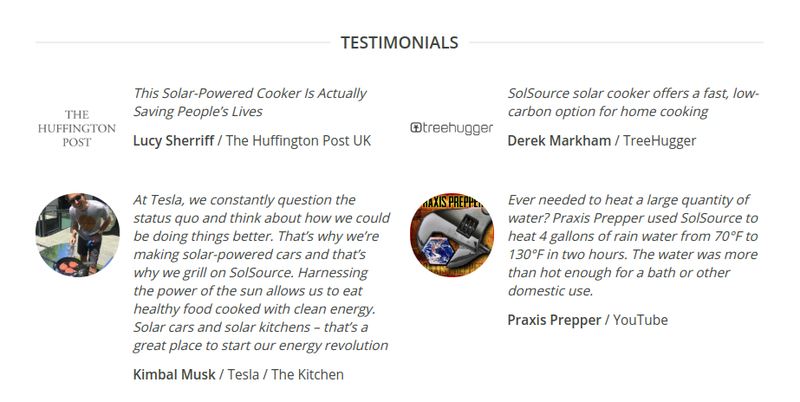 4. Celebrity Endorsement
This social proof is similar to expert reviews, but here the celebrities don't necessarily have to work in the same sphere that your product is in. What's most important is their name recognition.
Now, this doesn't mean you need Oscar-winning actors. You just need people that your audience knows and likes.
This works great in industries like beauty and fashion where customers want to emulate these celebrities.
We often see this in the form of athlete endorsements as well. Take Steph Curry, whose shoe deal is proudly displayed by Under Armour:
After signing him to his own collection, they locked in one of the most popular American athletes and even saw their market share rise.
By requiring Curry to wear their gear, Under Armour avoids one of the biggest mistakes with this social proof: Celebrities not actually using the products they promote. Make sure your brand ambassadors walk the walk after talking the talk.
5. Press Mention
With press mentions, you simply post links to articles about your company on a landing page.
Preferably, you'll want an article of substance – perhaps an interview with your founder. But if the publication is well-known, even a simple press release will suffice; most site visitors won't read too deep here. They just want to see that your product has gotten some commendation.
That's why press mentions are great for high-ticket industries where credibility plays such a crucial role.
Just make sure you actually link to the articles in your media icons; otherwise, it'll just feel fake. Check out how project management tool Trello does it, with press excerpts followed by hyperlinked icons to these reputable sources' original articles: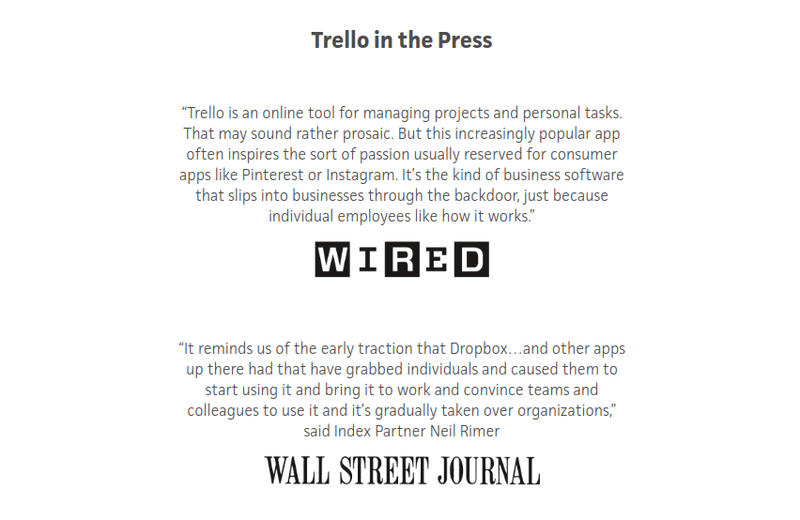 6. Real-Time Events
Sometimes, the most powerful proof is real-time data. Depending on what best fits your product, you can display all sorts of impressive statistics: current site visitors, daily products purchased, etc…
A great tool for this is Proof. Their resource "shows 100% real people taking real action on your site!" When you see others buying or praising a product, you feel more inclined to do the same.
Take a look at how they use it on their own site. A bubble in the bottom lefthand corner displays other users' real-time purchases: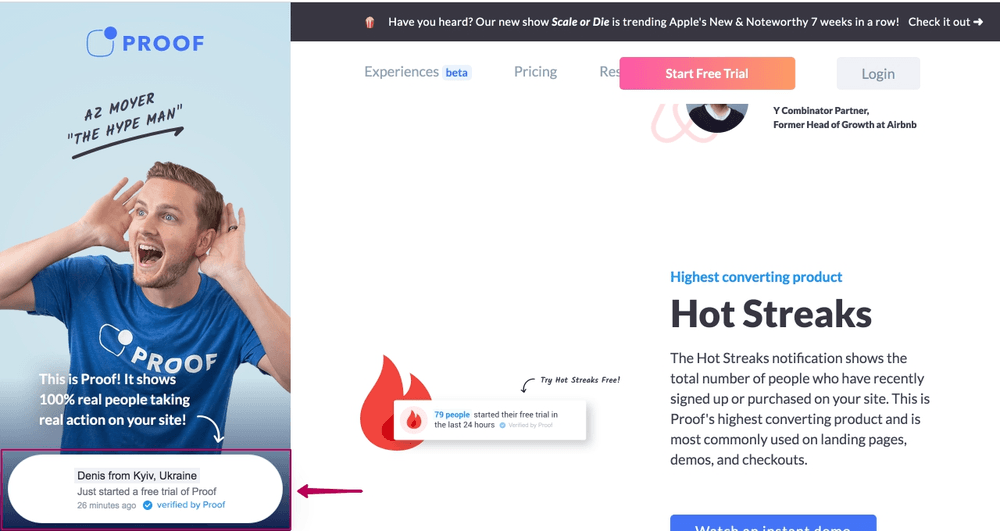 Here's the thing: If you're going to show off your real-time events and data, you need to be confident in their effectiveness. Results that are unimpressive (or, even worse, unrealistic) will only turn potential customers away.
7. Success Story
Our last major social proof explains your client's challenge and how you solved their pain points.
As it's based on in-depth research, the case study is typically employed for businesses where data matters. This includes SaaS companies, B2B products, and various other agencies.
With that in mind, make sure you show your data. The strength of your case study lies in its tangible evidence; without it, the story feels weak. So if you can't present the numbers behind the success, choose a different form of social proof.
As an example, e-commerce platform Shopify has its own page dedicated to showcasing success stories equipped with detailed insights. They even let you filter the case studies by industry.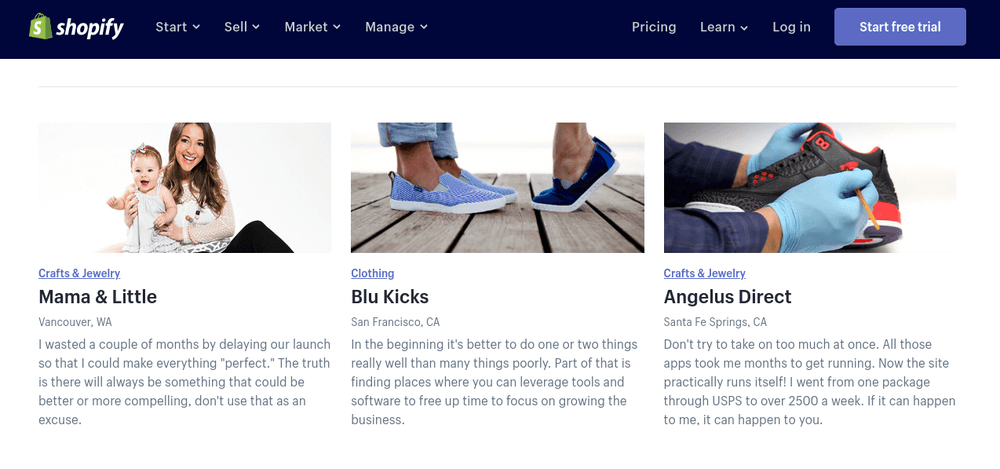 Conclusion
To reiterate: Your biggest asset is happy customers.
Their support can be more influential on your prospects than the most creatively crafted ad campaign. And if you demonstrate it through social proof, you'll instantly be strengthening your landing page.
Choose the appropriate social proof, present it wisely, and you'll find yourself winning the conversions game.