Spending Hacker is a blog teaching Australians tips and tricks for spending less $$$ and cutting everyday bills in (!) half by making smart choices. This also includes such basic expenses like broadband, electricity, gas and mobile plans.
The Founder, Michael Ginsburg, seems to be not only a Spending Hacker but also a Conversion Hacker, as he uses the cutting-edge conversion strategies, including Social Optin.
What is the Social Optin
While traditional optin forms require visitors to enter their email addresses manually, Social Optin allows you to place one single "Subscribe" button. And once a visitor clicks this button, his/her name and email address from the social network profile go straight to your email list.
This is great for two reasons:
It makes it easier for visitors to subscribe (especially when on mobile); and
It prevents typos when entering the email addresses, which increases campaign deliverability.
Social Optin can fetch data from Facebook, Twitter, LinkedIn, and even Amazon profiles. (And of course, you can have multiple buttons, one for a separate social network).
So when Convertful implemented Social Optin in April 2018, Michael was excited to be one of the first to access this new list-building technology.
The First Test
Did I mention that Michael is a Conversion Hacker?
He decided to start discovering this new technology, the Social Optin, with an A/B Split Test. Smart move!
So he created two exit-intent popups: the first with the traditional subscription form; and the second — with the standalone Social Optin buttons.

Generally, such a test can require thousands of visitors to become statistically significant (that is, to say we can trust the results). But in this case even after only 500 visitors, Michael could see, that the traditional form performed much better than the standalone Social Optin. 👇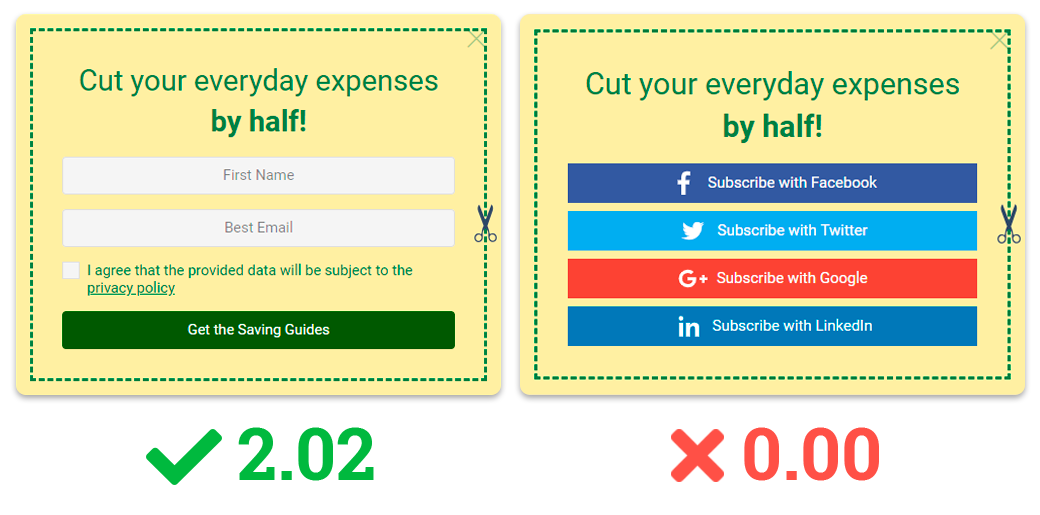 Wow! Why so? 🤔
Though Social Optin is a convenient approach, which simplifies the email subscription process to a single mouse click, it's still a brand-new technology that visitors may not be familiar with.
That's why most of the visitors may not quite understand what happens after they click a "Subscribe with …" button.
To resolve this, Michael added a text note right before the "Subscribe with …" buttons to some of the widgets:
Sign in with your preferred social media account and you will instantly unlock the link to download the report.
To make it crystal clear: we do not record your password and will NEVER post anything to social media on your behalf.
The only thing we record is your email address which will be subscribed to our FREE real-time deal alerts on everyday products and services.
This formation of expectations worked great! (The specific results in numbers are described further in this article).
Besides this, for some of the widgets, Michael made the other improvement. He combined Social Optin with a traditional form, so visitors could choose how exactly they want to provide the email address. Here's what it looks like: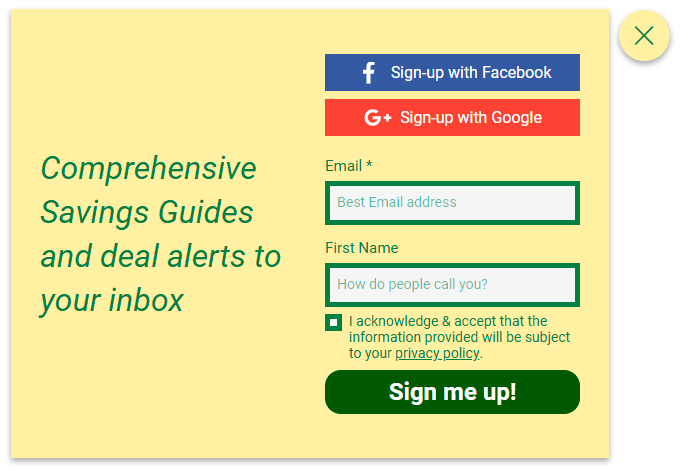 The above popup is displayed when a visitor clicks the relevant call-to-action. Through a combination of both a traditional subscription form and the Social Optin buttons, this popup converts 34.62% of the visitors who click the call-to-action button.
"Start Here" Page
After that Michael created a separate "Start Here" page to welcome the new site visitors and to describe what the site offers.
This page contains two similar subscription forms: the first at the beginning, and the second at the end of the article. Both of them are embeddable inline widgets which look like this: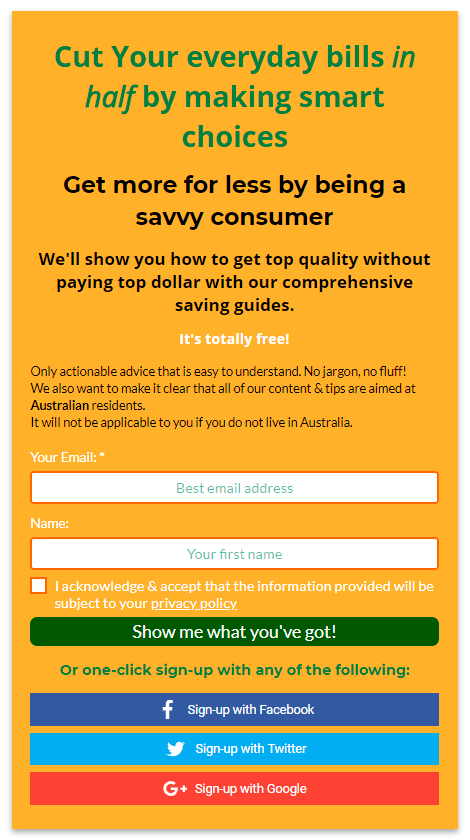 Together these subscription widgets convert 11.58% of the page visitors into subscribers.
Personalized Lead Magnets
But this was only the beginning!
To bring the conversion rates to the next level, Michael has developed 6 specific lead magnets, each of which refers to a specific audience interest. These interests include things related to saving opportunities, including cashbacks, mobile plans, credit cards and so.
Then he created 6 separate pages, related to these lead magnets – one for each – and created backlinks to these landing pages from the site's relevant articles, the home page, and the menu.
To each of these pages Michael placed the subscription widgets, which unlock the relevant lead magnet (this optin strategy is usually called "Content Locking"), and which look like this: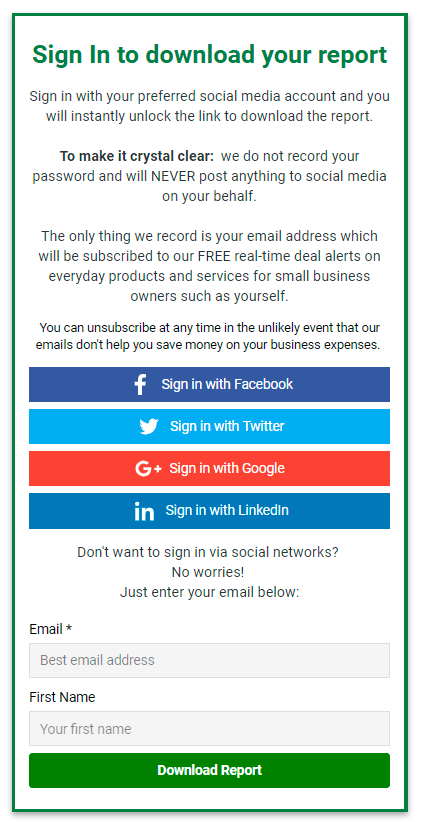 So when a visitor clicks the interest-related link, he/she lands toon the page, which makes the right offer at the right time. And this works just GREAT!
Two best-performing widgets here are related to saving opportunities for a small business owners (39.29% visitors conversion rate), and to savings on the electricity spendings (20.69% visitors conversion rate).
Conclusion
Social Optin is a powerful tool itself, but it requires a bit more fine-tuned approach: when possible, add a few notes on what will happen after a visitor clicks the social optin button.
And to skyrocket your conversion rates try to learn what's actually interesting for a visitor, and offer him/her something related and very specific. 🚀