Shopify is "one of the most trusted platforms for an eCommerce store," according to Neil Patel.
Over 600,000 distinct merchants currently power their online stores through Shopify. Collectively, they've generated over $40 billion in revenue since 2004. It's safe to say that Shopify is a leading platform in the growth of e-commerce.
If you're planning to start your own Shopify store or looking to scale up your current one, competitive research is a great starting point. Understanding your competitors is the best way to beat them.
That's why we've gathered 37 successful case studies from 8 different industries right here. All in all, it will give you a helpful overview of industry leaders and even offer up some clever marketing tricks to copy!
Fashion
The double-edged sword is that fashion is simultaneously one of the most popular and most competitive industries out there. And with projected global sales of over $600 billion, it's no wonder why.
The main obstacle companies here face is that people still prefer to try clothes on before purchasing – something that's a bit difficult to do online. Succeeding in light of all the opposition and speed bumps is what makes these following Shopify stores so extraordinary.
Monthly Visits: 15.65M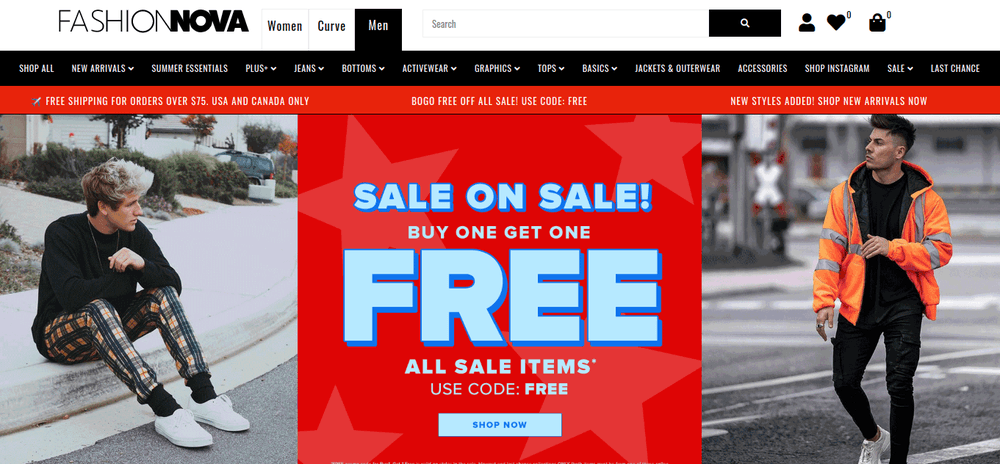 This chic online marketplace has made its mark by delivering affordable, "ultra-fast" fashion built on creative, customizable looks. The Los Angeles-based brand has obtained such a passionate global following that it ranked as Google's most frequent fashion search in 2018.
Even before CEO Richard Saghian officially launched the site, he was growing a viral fanbase on Instagram. As Fashion Nova took off, Saghian further boosted this funnel by partnering with influential celebrities like Cardi B and Kylie Jenner. Through it all, the company's messaging effectively targeted a trendy, metropolitan audience eager for a change of pace.
Monthly Visits: 1.222M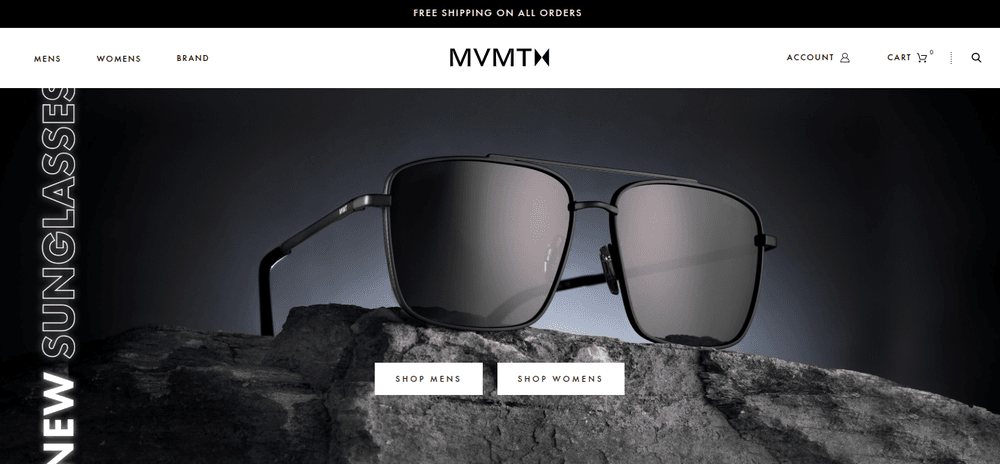 All it took for two college dropouts to build a $100 million business was a quick splash in the stale watch industry. They build a devoted user base with a focus on sleek minimalism, quality material, and reasonable price – all of which is displayed prominently in their Shopify store.
Their rise to success can be credited to a big picture brand strategy. First off, they fostered a strong online presence with a combination of crowdfunding, social media, and an easy-to-use e-commerce platform. Further enriching that site with top-notch design and photography as well as data-driven analytics has awarded them the loyal community they enjoy today.
Monthly Visits: 739,574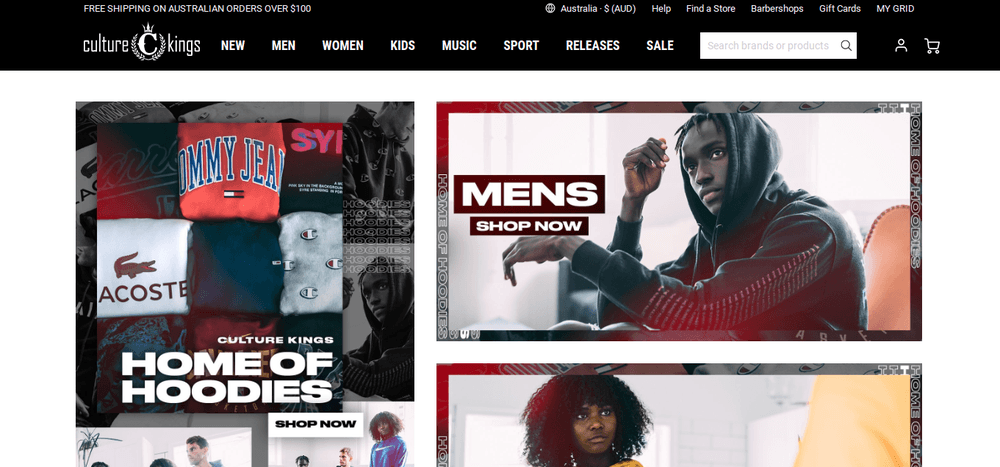 Founded at the intersection of "music, sport, and fashion," Culture Kings has become an internationally renowned source for high-end streetwear. Their offerings are marked by a cool, hip style, as evidenced by the host of rappers and athletes publically donning their clothing.
What truly elevates their brand, though, is a unique shopping journey. At first, you could plainly see this distinct vibe in their physical stores across Australia (some of which even doubled as dapper barber shops). With Shopify plus, they managed to replicate that energy online by tailoring to each customer based on personal preferences and even geographical location!
Monthly Visits: 553,727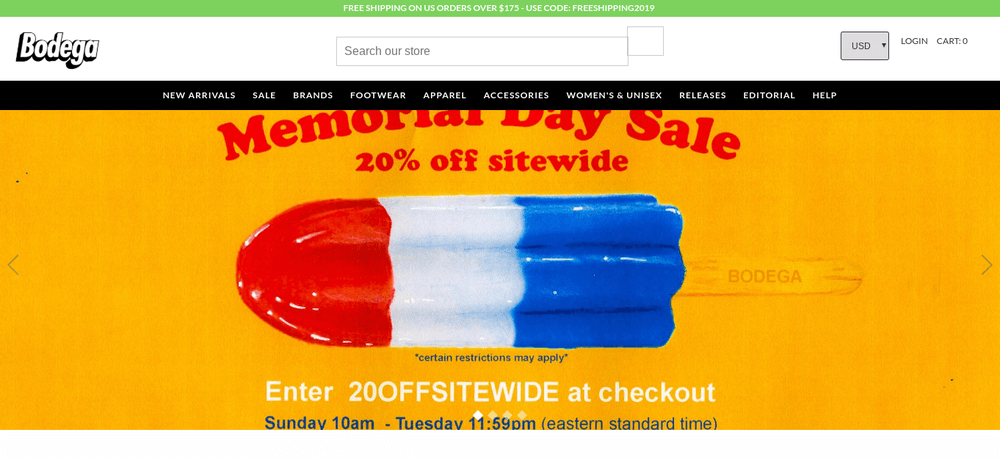 Originally operating from Boston basement, Bodega now offers modern urban attire to customers worldwide. Their claim to fame is a stock of high-end sneakers for the passionate collectors out there.
Believe it or not, the store originally relied on word of mouth to gain acclaim… And, judging by Kevin Durant's surprise appearance within their first half year of opening, it worked! They simply pinpointed an underrepresented niche in the fashion industry and capitalized on it.
Now, much like Culture Kings, they're committed to conveying their upbeat, "clubhouse" in-store experience through social and digital channels. Even the written descriptions of each pair of shoes on the site convey their fun, personal approach.
Monthly Visits: 386,748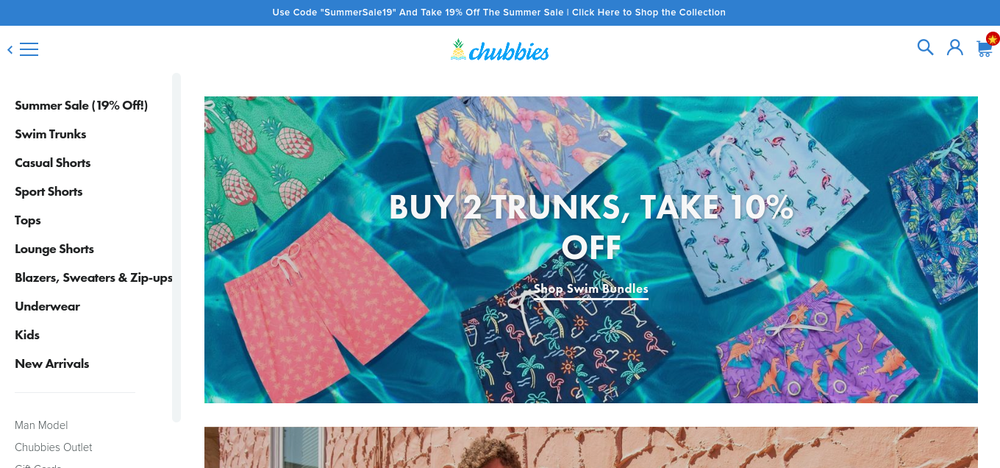 It all started with a 4th of July party. A few Stanford grads brought their custom-made retro shorts and saw them quickly sold to enthusiastic partygoers. Now, they run a casual summer clothing company predicated on comfort and relaxation. At Chubbies, that 5pm-on-Friday vibe is present 24/7.
That inviting attitude is captured in their website through friendly copy, easy navigation, and an immediate offer of a free gift. With some eye-catching visuals, the homepage immediately establishes that eternal weekend atmosphere and shows exactly how they're pushing the envelope with artistically imaginative apparel designs. Plus, they make their name on unparalleled customer support; Chubbie's endearing success stories actually serve to augment their brand narrative.
Monthly Visits: 894,487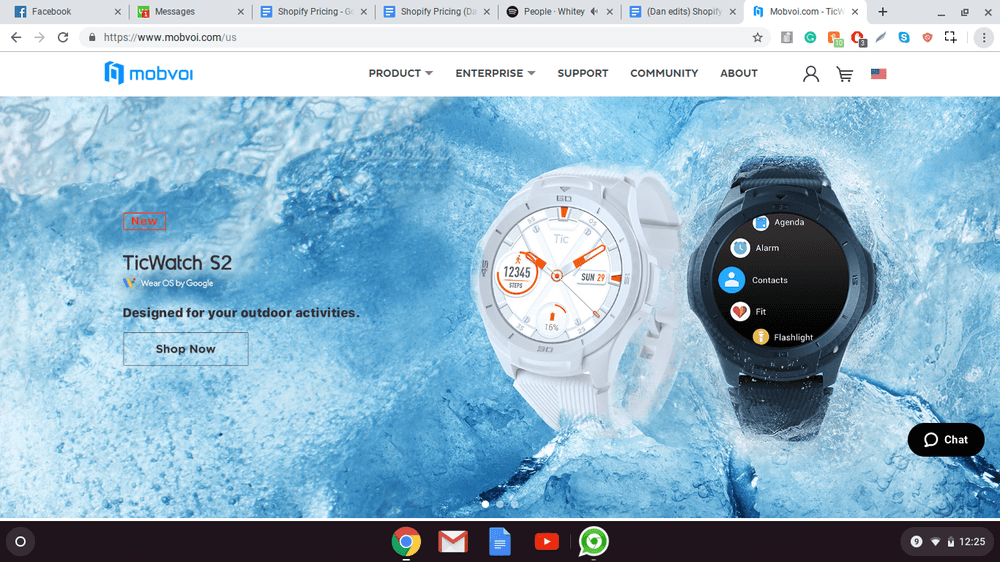 The team at Mobvoi is developing cutting edge AI technologies equipped with advanced Chinese language processing. Think: personal assistants and headphones. And most prominently, smartwatches, which dominate the website's front page.
Crowdfunded through Kickstarter, Mobvoi's ascension can be directly attributed to their impressive technological developments. In fact, Google took notice and made a substantial investment to boost this progress. Working in a B2B realm has helped sustain sales growth, as has a meticulous attention to detail with an emphasis on smooth consumer experience.
Health and Beauty
As one of the fastest growing industries, Health & Beauty is witnessing more and more upstart businesses enter the fray. Skincare tops the chart with over $20 billion in sales over the past 5 years, while hair care, oral care, baby products, bath/shower, and color cosmetics also each topped $5 billion.
And, as the successful companies below can attest to, those numbers are only on the rise.
Monthly Visits: 4.374M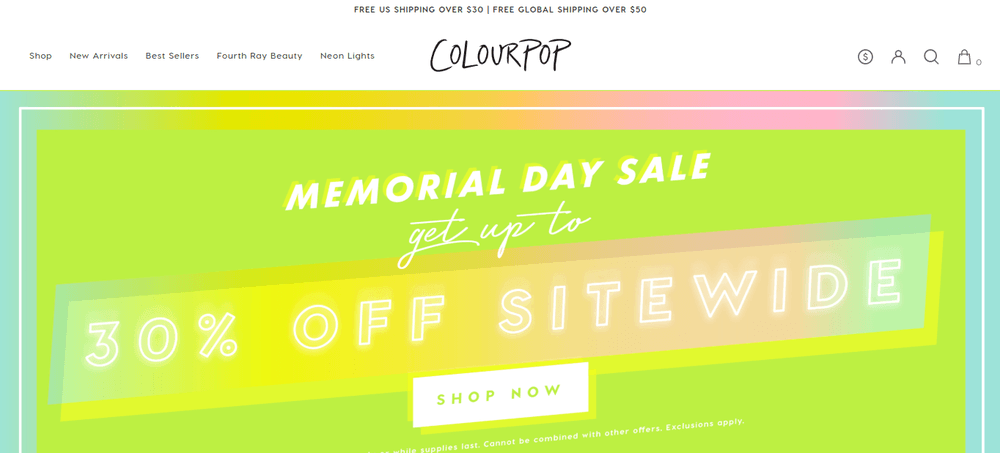 This beauty brand sells award-winning cosmetics and related products at a surprisingly affordable price. Based in California, they take particular pride in being cruelty-free, instead opting to manually test their concoctions in house.
Armed with the power of Instagram, ColourPop has channeled both earned and paid influencers to build their credibility and outreach. Youtube vloggers, in particular, have helped in speaking directly to a millennial audience. And when you get to their e-commerce page, you're instantly welcomed by vibrant graphics and free gift and shipping offers.
Monthly Visits: 1.759M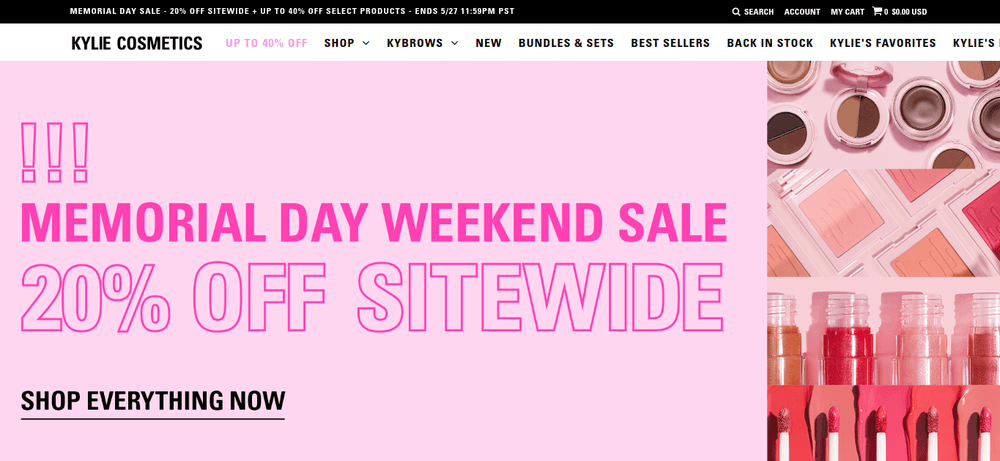 Kylie Jenner's makeup company has helped the young media personality become one of the youngest billionaires ever.
It's no surprise – at the heart of her success is her pre-existing name brand strength. Given her celebrity status, Kylie only needs her own face (and family support) to effectively tap into her 120+ million Instagram followers.
Beyond notoriety, Kylie Cosmetics relies on a smart website layout with intuitive navigation and easy checkout. Once you're ready to buy, the site is expertly set up to offer a variety of upsells that are hard to pass up.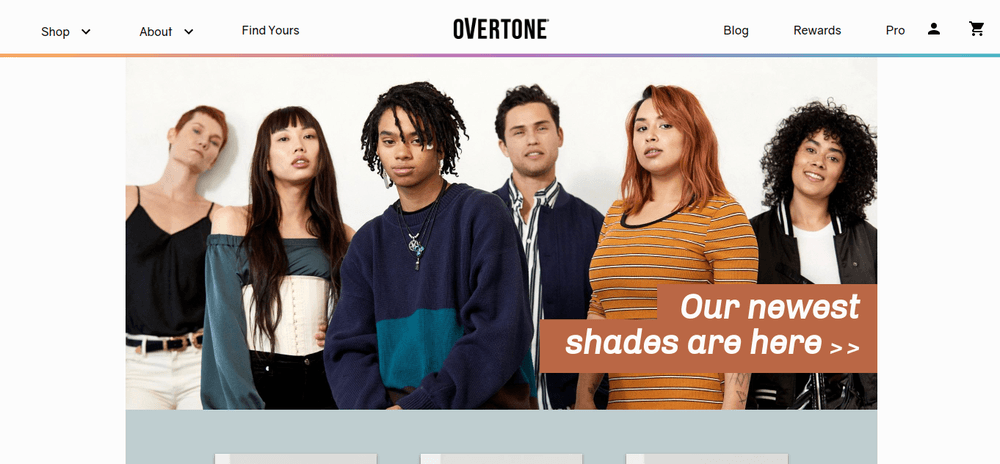 Monthly Visits: 561,066
Here's a conditioner that colors your hair without the typical drawbacks of dye. Instead, Overtone offers a semi-permanent alternative that's more friendly to your hair and your wallet.
What's made their Shopify store truly tick is a "for the people, by the people" mentality. They can boast of natural ingredients, self-testing, and a host of freedoms that mainstream dye products simply can't. When the goals are fixing problems and maintaining progressive ideals – rather than monetizing – it's easier to get your niche customers to care.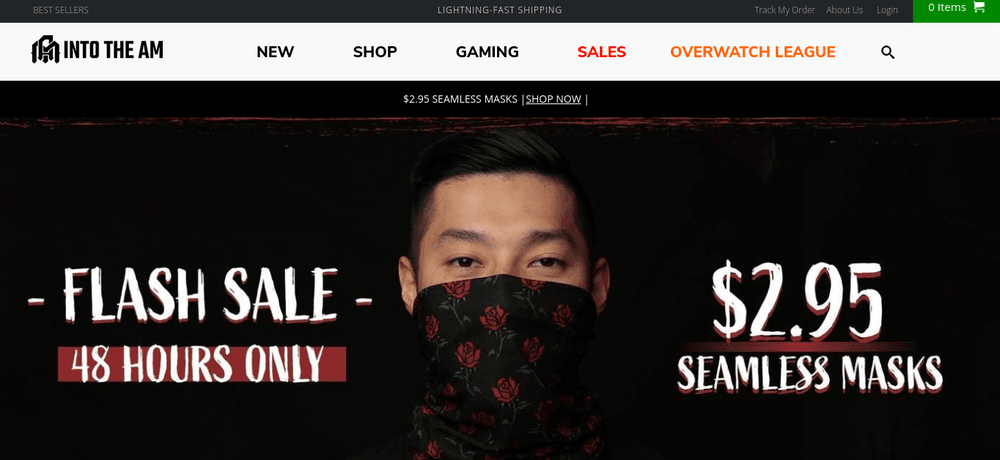 Monthly Visits: 420,533
At Into The AM, you'll witness "clothing as a canvas" of self-expression. Their hand-crafted, eco-friendly apparel is adorned with elaborate illustrations you won't find anywhere else.
This artistic vision, along with their high-quality materials, translates into clothing that's one of a kind. And their website immediately captures this creative essence by showcasing some of their wild designs.
Plus, in building a brand around self-expression, Into The AM is committed to innovating and personalizing. In fact, one of the greatest strengths they publicize is customization via mixing and matching images with their huge set of items.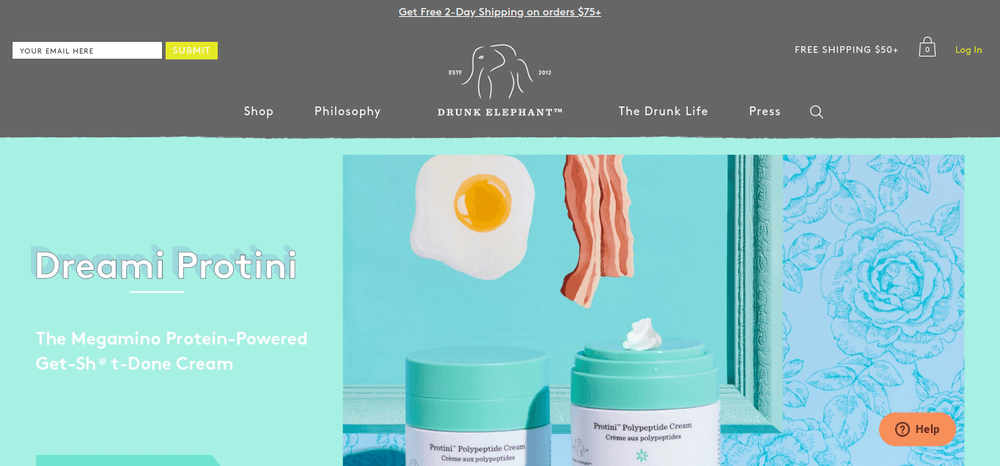 Monthly Visits: 274,245
Tiffany Masterson created this skin cleanser with the goal of reducing irritation and breakouts built up over time. As it was initially a solution for her own personal issue, she made sure that every single ingredient was helpful to the cause. After all, "a formulation is only as good as its worst ingredient."
A big part of the rise of Drunk Elephant is Masterson's customer communication. Beyond support, she actually involves her user base in the process. She asks questions, polls for input, and takes suggestions into account. As such, her company is something of a group project with a common goal and shared outlook.
You can see this distinct energy both in the brand's social engagement and personable website copy. (Even the exit intent seems like it's coming from a friend!).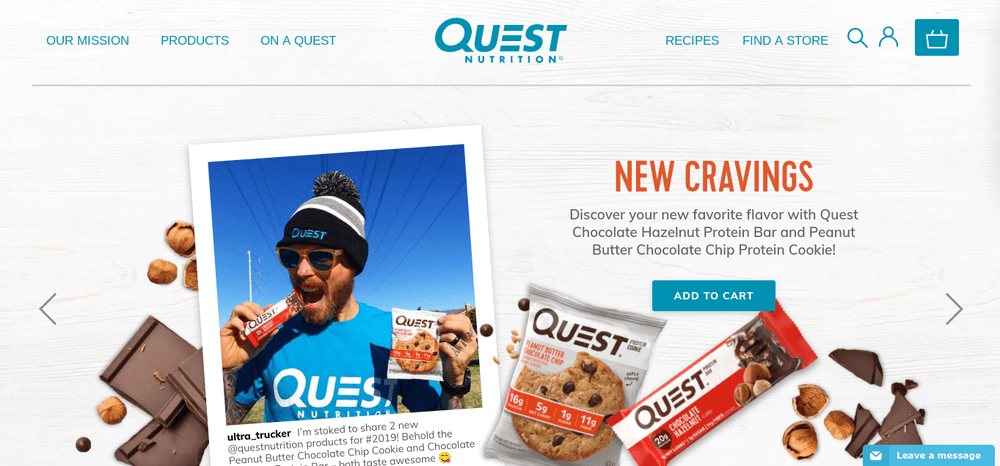 Monthly Visits: 228,208
Quest may sell protein bars and other health food products, but the heart of the brand goes above and beyond. Theirs is a philosophy combining taste, nutrition, and freedom with your dietary choices. Overall, it's quite a relatable goal.
…At the very least, their loyal customer base seems to think so. They've created a unique kinship among their users, even using the name "Quest" to label the joint healthy food mission they're all on. And their website highlights this camaraderie by showing profiles of some of their devoted followers. Nothing motivates you into action like a real-life success story.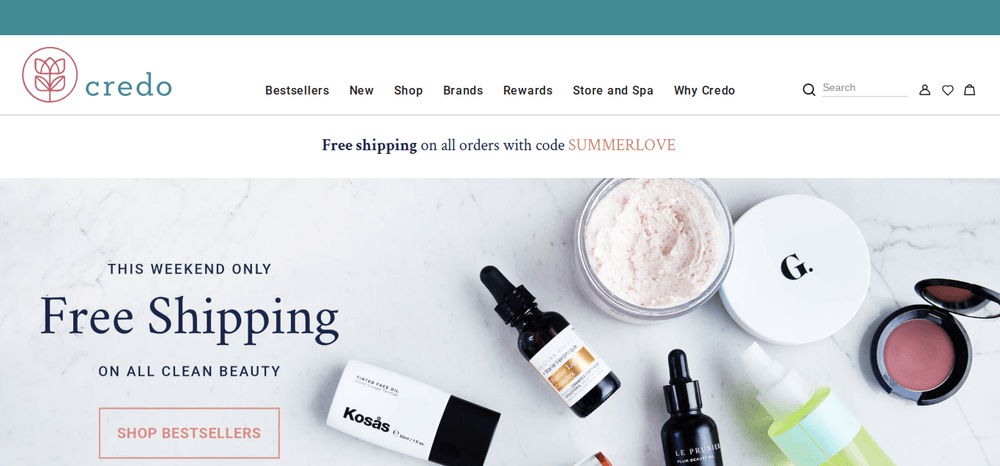 Monthly Visits: 177,559
Credo is a "clean beauty" product line that puts the spotlight on organic ingredients. They're pioneers in creating non-toxic cosmetics that actually work; it's a careful balance of health and potency.
What sets Credo apart in a pretty populated industry is this commitment to education. Their site actually contains a whole knowledge base detailing which common ingredients you want to shy away from and why. The homepage even immediately presents a set of "power ingredients" and their natural benefits. Ultimately, Credo's strength comes in being a thought leader and getting the honest word out.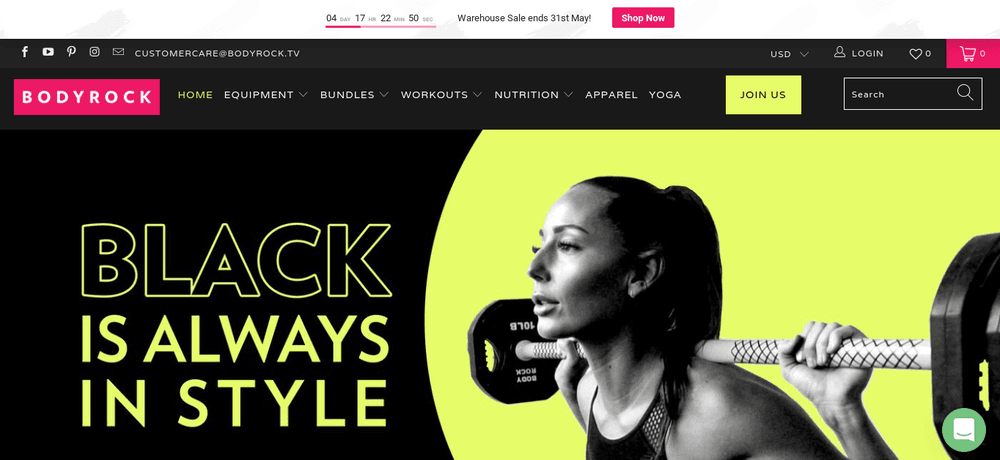 Monthly Visits: 157,142
If you want to see a website that takes a holistic approach to physical fitness, check out BodyRock. They offer nutrition, equipment, and personalized workouts to help absolutely anyone get in better shape and enjoy a healthy lifestyle.
Their site's navigation is built to easily access each of these categories. When you scroll through the menu, you get a brief, helpful description of each option's exact benefits. Considering the striking visuals and inviting "Join us" call-to-action, it's safe to say their online marketplace is made for the shopper.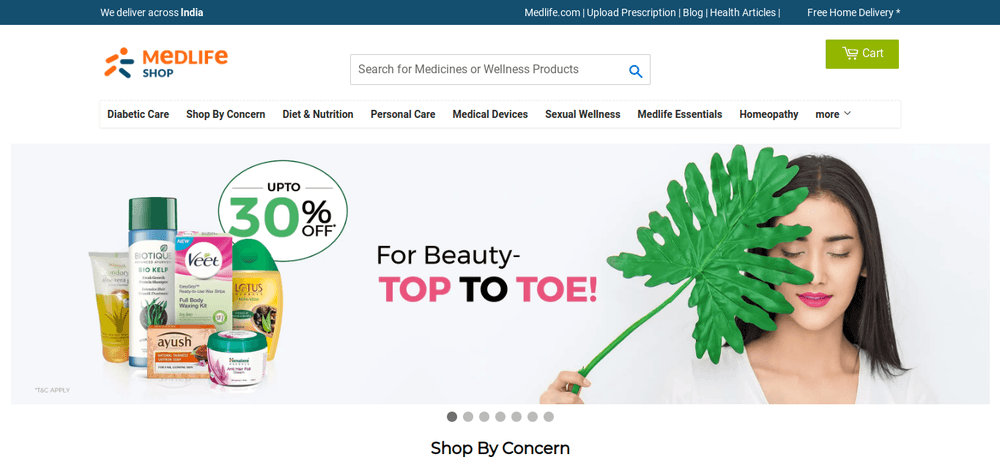 Monthly Visits: 122,508
What if a healthcare marketplace brought together pharmacies, labs, and doctors all under one roof? That's exactly what MedLife has accomplished as they've grown beyond an e-pharmacy into a do-it-all platform.
The secret to their sauce can be found in innovative technological solutions. For instance, their mobile app makes finding services easy for consumers and likewise simplifies record-keeping for doctors. All in all, their brand personality is that of problem solvers – a reality that's evident from their "Shop By Concern" site navigation structure.
Gadgets and electronic accessories
Online stores tend to be a trusty source when looking to buy a new gadget, partly due to perceived lower prices and improved service. In general, that convenience factor is critical; you can calmly do your due diligence in comparing items, reading reviews, and making the most informed purchase from the comfort of your couch.
Check out how these 4 Shopify stores capitalized on this growing movement.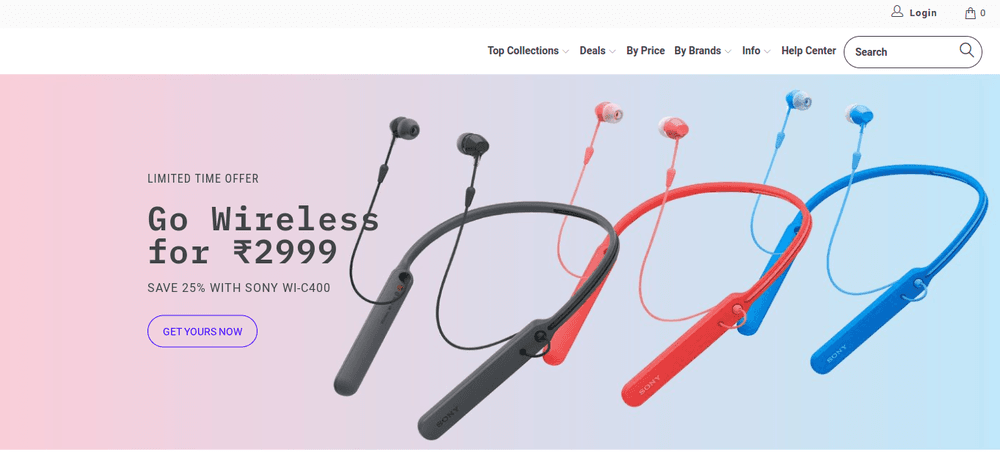 Monthly Visits: 559,280
In an effort to disrupt a dull electronics industry in India, the team at Headphone Zone put together their own extensive marketplace. The focus is on stylish, high-quality brands that fit the need of every customer.
They've actually gone the extra mile by offering guidance from their headphone gurus. These people know and love the industry, and their singular goal is helping customers find exactly they're looking for in the store's huge library. Add in some great deals, secure transactions, and express shipping, and you've got the ideal e-commerce experience.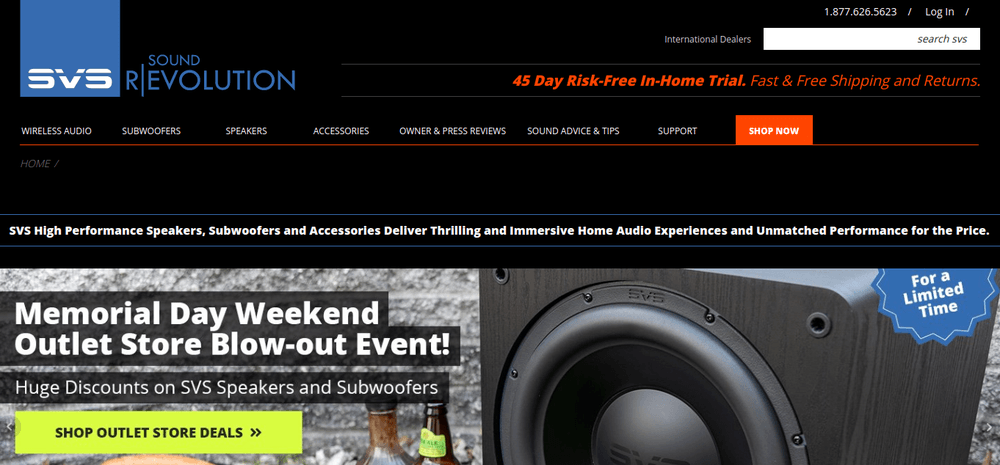 Monthly Visits: 521,383
The folks at SVS Sound Revolution are living up to their name by making high-end subwoofers and speakers more accessible to the general public. They're working to drop the elitism currently shrouding the industry by lowering prices and providing exceptional assistance.
That right there – their customer contact – is unquestionably their calling card. SVS meaningfully engages directly with their users through direct conversation, social channels, and company events. They're all about building ongoing relationships and offering valuable benefits (i.e. risk-free trials) that make the buying process so refreshingly painless.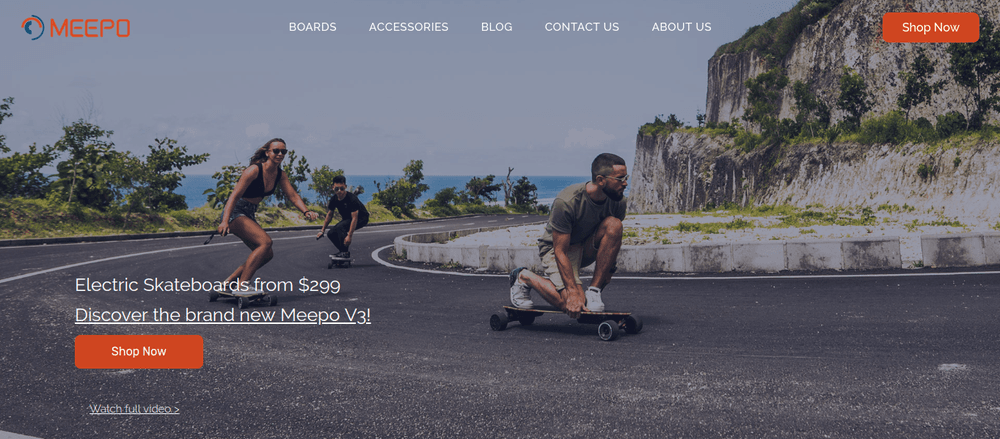 Monthly Visits: 176,032
Changing the game since 2017, Meepo leads the pack of accessible e-skating. Their product is a fairly cheap, eco-friendly alternative that's easy to get into.
Founder Kieran originally set up an e-skating Youtube channel as a passion project with B2B aspirations; instead, he built up a network of individual fans. He quickly switched gears, used additional viral sites like Reddit, and set up a diehard community that's preparing its first "group ride" this summer.
While social sources helped before they had a marketing budget, Kieran and the Meepo team now have a Shopify store with gripping multimedia and testimonials. Cool marketing features like an exit intent pop-up with a free raffle further help keep eyes on the page.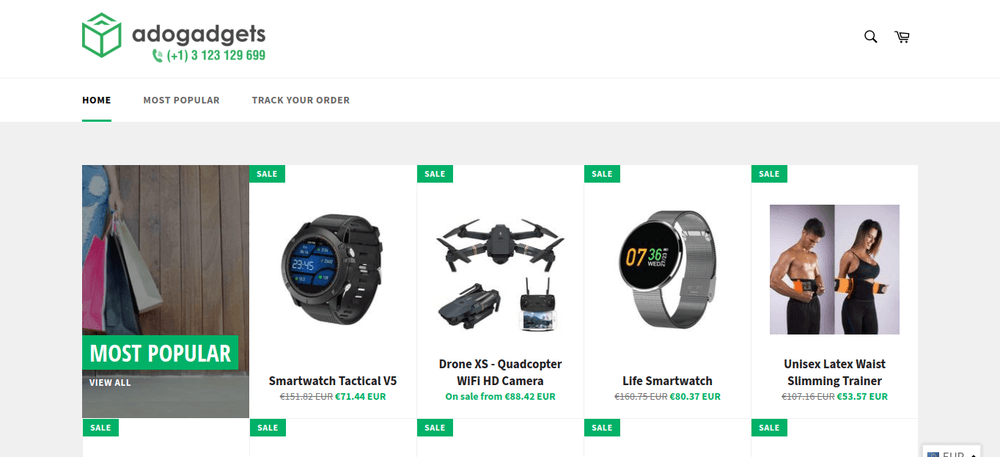 Monthly Visits: 265,278
In an online world filled to the brim with electronic stores, Adogadgets has managed to compete. They offer all the trendiest gadgets and accessories in a variety of popular categories thanks in part to their website layout.
Front and center on the homepage are a number of big-ticket items with sizable sales attached to them. Essentially, they've done the hard part in finding you some good deals.
And when you're ready to commit, their checkout process is similarly smooth – kind of like a decluttered Amazon.
Fitness and sport
The rise of a health revolution has led to billion dollar industries like home fitness equipment ($14 billion), fertility treatment ($21 billion), and wellness-minded real estate ($52 billion).
The unsurprising result is more and more companies emerging to fill that demand. Here are 4 you may not have heard of that are making big waves right now: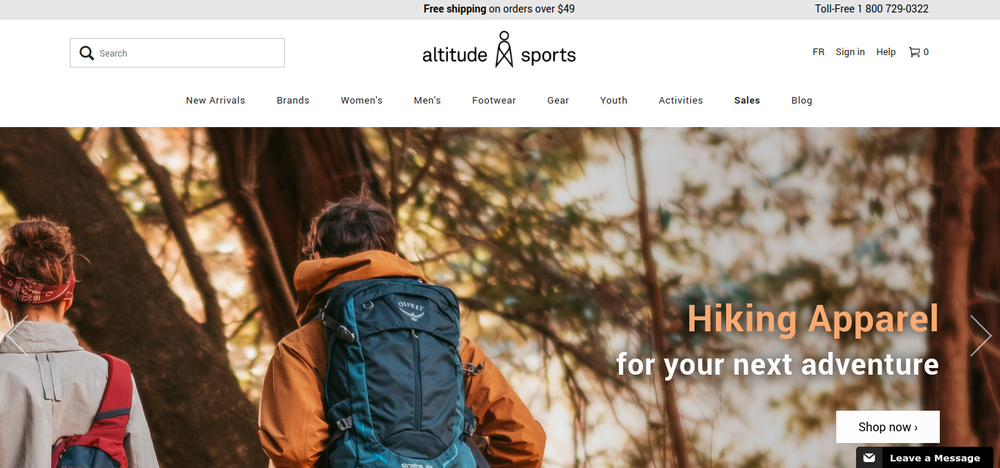 Monthly Visits: 803,111
Altitude's been selling outdoor sports apparel since the '80s, so their current e-commerce prowess is a true testament to their adaptability. In 1999, they opened one of the first online stores in this industry, but if you click above, you'll see it looks as modern as ever.
Indeed, their chic, intuitive website captures their unwavering dedication to user experience and forward thinking. Collaboration with international sportswear leaders continues to fuel their creativity. And front page discounts help entice conversions right from the get-go.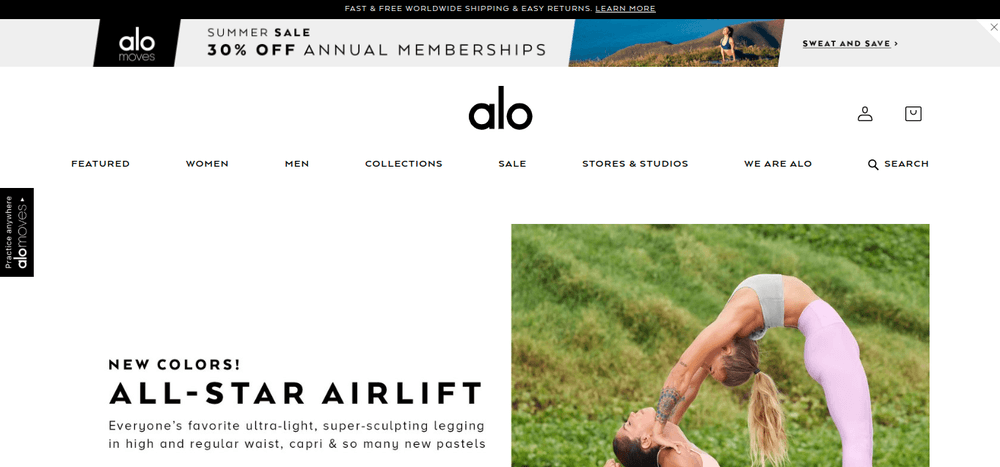 Monthly Visits: 417,702
"Spreading mindful movement, inspiring wellness, and creating community."
With their high-end string of yoga clothing, Alo Yoga spreads this mission statement to the masses. They inject the yoga mindset from "studio to street" in order to benefit everyday life.
This powerful ideology is more than mere buzz: Alo Yoga runs their own charity and has a solar-powered office. Backing up their words through impactful actions – and posting incredibly scenic photos – has boosted them to the top of Instagram's influencer rankings. And while posts from Jenners and Hadids don't hurt, Aloy Yoga adds to their reputation by not shamelessly plugging celebrity affiliations.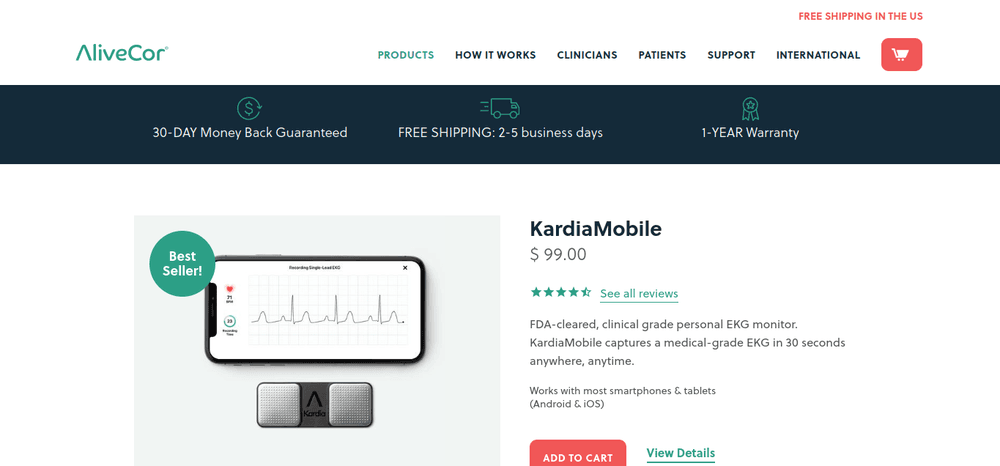 Monthly Visits: 198,714
Like something out of a sci-fi novel, AliveCor makes gadgets that detect heart rhythm and can even identify heart attacks. Considering its compatibility with Apple devices, they've literally created a lifesaver in an app. Seriously – check out their success stories.
In terms of market growth, AliveCor gained traction through strategic innovation. FastCompany even gave them some coveted publicity by ranking them as 2018's #1 company in AI/machine learning. With a tech-savvy product that works and a Shopify store equipped with free shipping, warranties, and money-back guarantees, AliveCor has everything they need to thrive.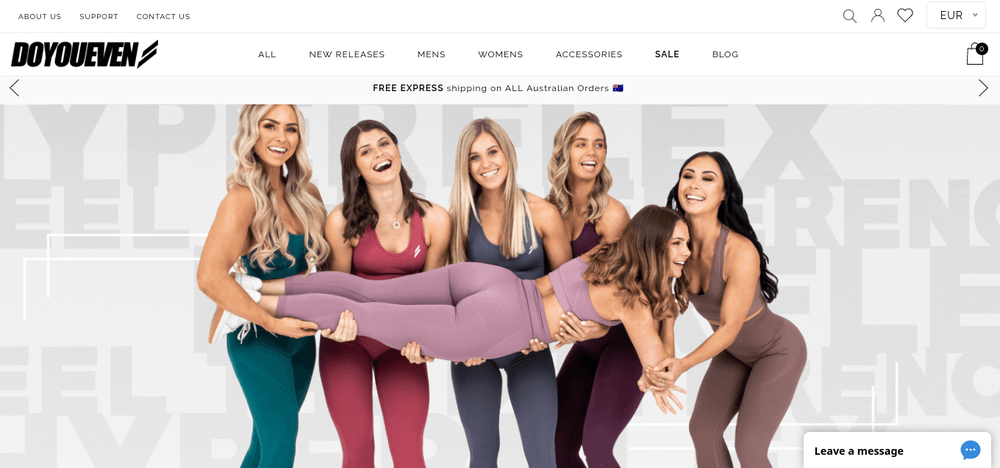 Monthly Visits: 134,029
Rounding out our Sport category is a fitness clothing line engineered to feel just as great as it looks. DoYouEven strives to empower their customers on the greater journey of physical wellness, as evidenced by their motivational brand mantra "Leave Your Mark."
On top of their attractive and smart web page layout, they offer a number of convenient shopping features for their 250,000+ customers. Global shipping (express in Australia!), 24/7 support, and PayPal payment are three of the simple ways they've worked to appease visitors.
Food
How much do we love food? Over $16.5 billion's worth! The food and beverage industry is actually projected to pass that figure this year and reach $26 billion by 2022.
And these 3 Shopify stores are already contributing sizably to those numbers: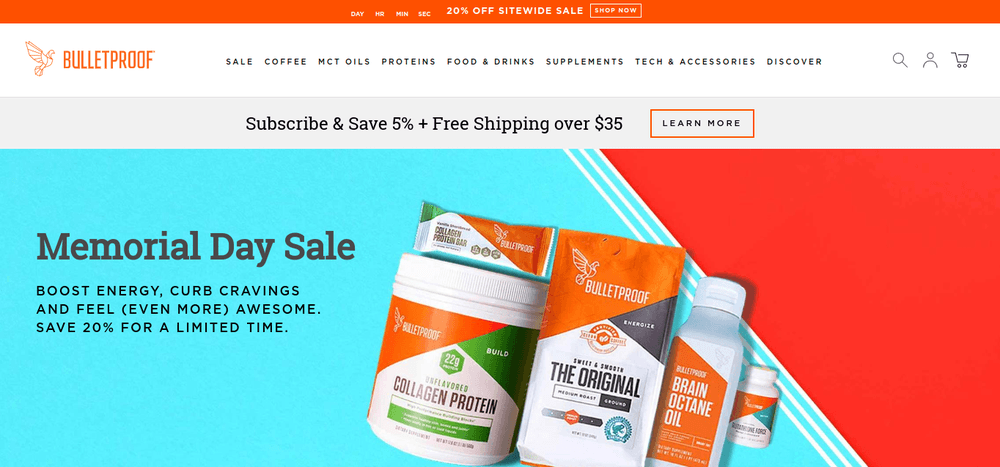 Monthly Visits: 3.920M
You may have heard about this growing source of consumable goods with nootropic and physical benefits. That's because founder Dave Asprey is telling everyone: "It's a gateway drug for taking control of your own biology."
He's referring to any one of their products designed to improve nutrition, supply protein, taste good, improve sleep, or provide any combination of perks. Asprey's own transformative health journey inspired it all – a reality he clearly expresses in his promotional dieting book.
Bulletproof coffee specifically received acclaim from the New York Times and Jimmy Fallon (among others). It seems that splashing into a booming coffee culture with uniquely cool, metallic-themed shops is a viable business strategy!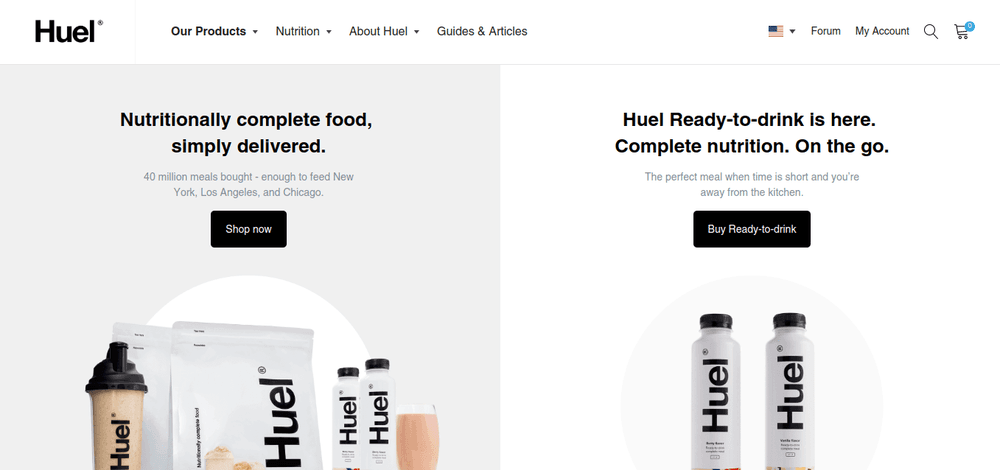 Monthly Visits: 1.014M
Nutritional. Environmentally friendly. Tasty. Affordable. These are some of the superlatives that Huel's meal alternatives and supplements have garnered. On their Shopify-backed online store, you can select from a host of organic, lactose-free, GMO-free drinks, powders, and flavor boosters.
They're leading a revolution in proving just how far vegan can go. Part of why it's so popular is the super easy prep behind each product; improving your diet can be done in just a few minutes. Huel further stands out with a laundry list of commendations from nutritional experts, as well as an online forum where "Huelers" can share ideas, offer feedback, and connect within a like-minded community.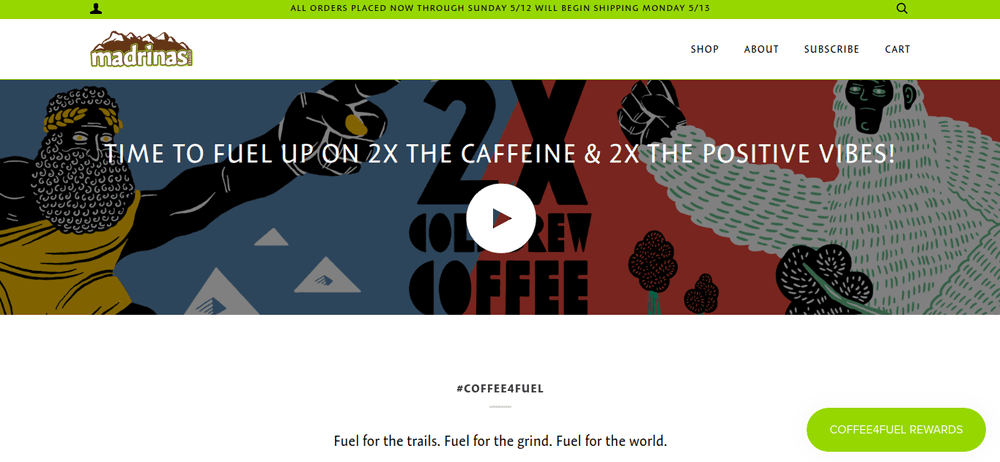 Monthly Visits: 312,869
Madrinas is creating fuel in the form of organic cold brew. Their convenient cans are filled with fair trade coffee sourced exclusively from Colombia and Mexico. Thus, they pride themselves on being a caffeine alternative that's healthy for the drinker and the planet.
Some of their growth can be pegged to a very human Instagram presence which strongly appeals to an outdoor adventurous user base. More significant, perhaps, is their collaboration in the gaming sector; they've partnered with Twitch star Shroud to flip the energy drink market on its head.
Recognizable names
Sometimes, a popular name is enough to propel a new business.
If your brand is already successful and well-known, it's a lot easier to venture into a tangential industry to offer complementary goods. As an example, if Nike started selling hydrating performance drinks, it's a safe bet to say they'd get some instant buyers.
Science has even proven the psychological strength of big brand names in affecting customers' emotions.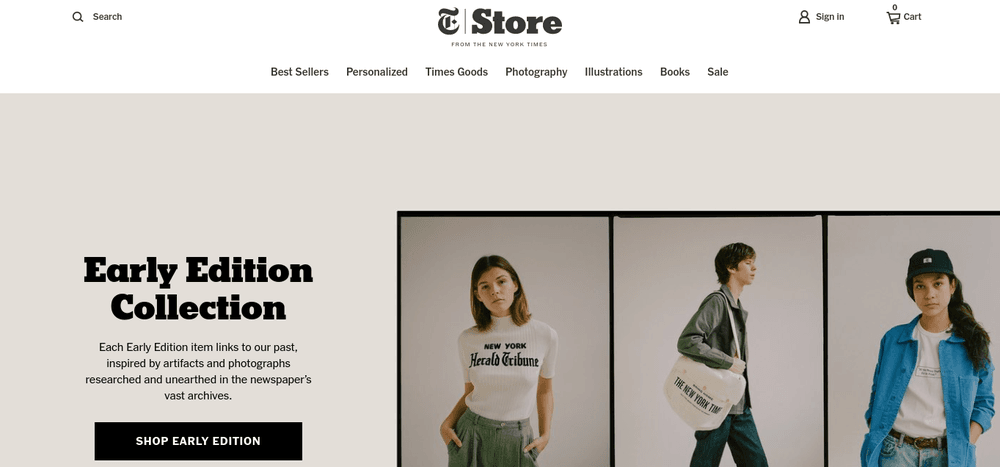 Monthly Visits: 204,961
The world-famous newspaper set up an adjacent e-commerce site centered on the gift niche. Much like a physical bookstore, they sell novels, photography, clothing, stationery, and other brand-relevant items.
When you're propped up on the preexisting prestige of a name – say, "The New York Times" – it's not hard to amass a following. The store website plays to this strength by replicating the newspaper's distinctly sophisticated appearance. And it engages the reader with a popup asking for feedback and calls-to-action softly nudging further site exploration.
Monthly Visits: 54,565
Of course, the Oscar-winning musician has her own Shopify store. With her current success and notoriety, it's a no-brainer that fans will want to purchase her music, themed apparel, and additional accessories.
The website visuals are strikingly Gaga-esque, but the page is actually quite minimalistic and easy to get around. The path to checkout, for example, is incredibly quick; there aren't many things to deter you from purchasing. And with some other solid marketing features – i.e. Google Pay option, enticing email subscribe popup – the store is sure to keep snowballing support.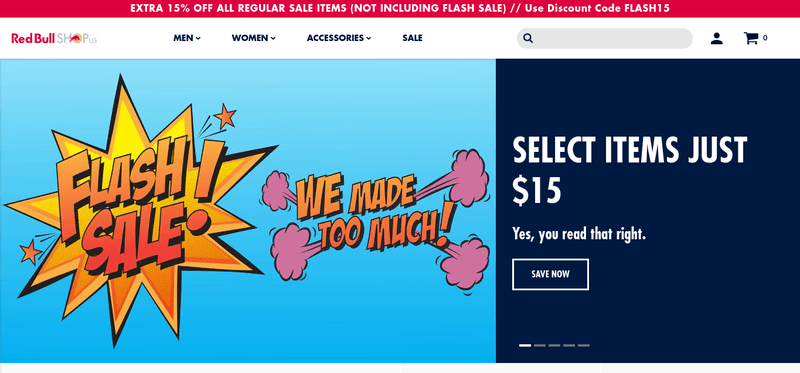 Monthly Visits: 50,875
Red Bull's gone way beyond its energy drink that gives you wings. Now, their e-commerce site is taking flight by cornering the extreme sports market with performance apparel and stylish accessories.
They've made the most of their Shopify store with a well-designed user interface that's quite pleasant to scroll through. An immediate offer for 10% off just by signing up for the newsletter, paired with diverse calls-to-action like "gear up" and "save now," further open the door for easy shopping on the consumer side.
Hobbies
One of the most effective strategies in starting up a Shopify store is pinpointing a niche with its fan base… Particularly if you belong to that group.
Now, the market here is admittedly not as big as, say, Fashion. But you'll find it's much easier to reach your audience thanks to lower competition and hyper-specific targeting.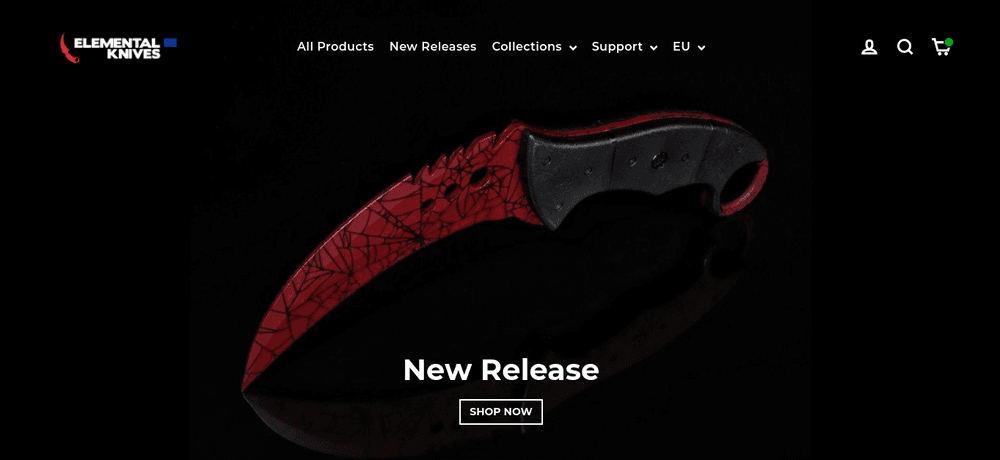 Monthly Visits: 317,810
As the name suggests, Elemental makes novelty knives for the avid collectors out there. Their fantastical concepts, top-of-the-line quality, and precise attention to detail have amassed them an Instagram following of over 90,000.
Their online shop powerfully reflects the brand's enchanting energy. After all, they don't just make knives; they "make magic." That said, they didn't get lost in imagination when designing their site's layout. The categorization is intuitive and the purchasing process is incredibly streamlined. Each item even has a "Quick shop" option that speeds you along to checkout with only one page reload.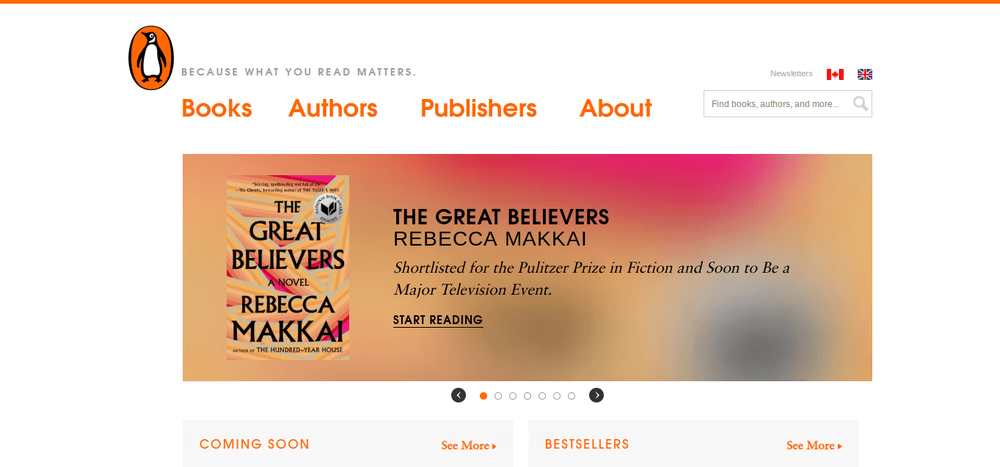 Monthly Visits: 308,598
If the name sounds familiar, that's because Penguin's been publishing books since the 1930s. As their century-mark birthday looms, they remain increasingly relevant – in part due to their willingness to modernize.
They used Shopify to create a sleek online bookstore presence. The site's catalog structure allows for dynamic searching and exploration, allowing you to browse by author, genre, or other classification (i.e. Bestsellers, new releases, etc…).
Each individual book's page is also clean and helpful, offering free excerpts, similar suggestions, audiobook options, and more.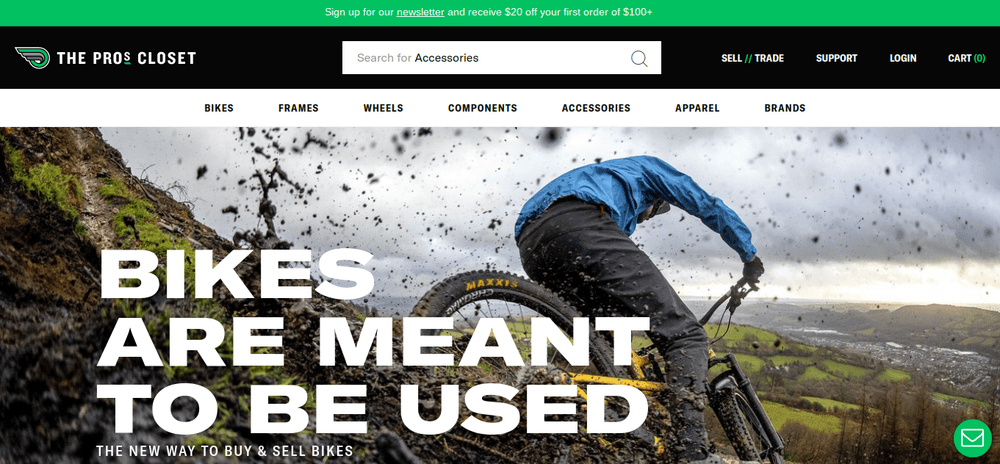 Monthly Visits: 252,810
Born out of a commitment to minimalism and mobility, The Pro's Closet is a modern bicycle marketplace with a focus on high-caliber used equipment. They sell everything from bikes and parts to add-ons and gear.
Part of their success can be attributed to their genuine living-out-of-a-van spirit, with an experience meant to mimic your local shop. They have a helpful search bar and even detailed each item's page with specifications, condition, geometry, and shipping details.
Plus, the $9 million they received in funding in 2017 was all poured into e-commerce to help them continue filling a legitimate area of need for the biking community.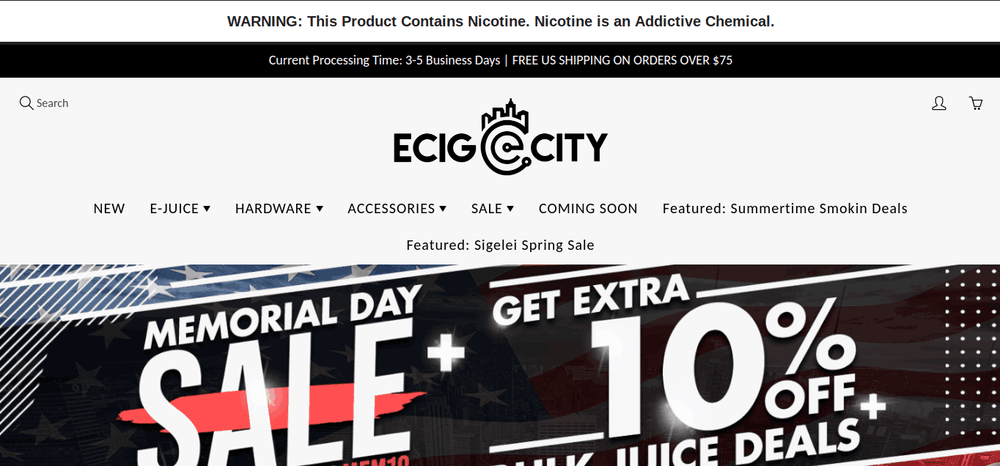 Monthly Visits: 209,158
Plugging into the recent vaporizer craze is eCig-City, where you can find all sorts of hip hardware, interesting flavors, and more.
Their Shopify store particularly stands out with its "Featured" sales and deals on the banner. And right below that, there's another eye-catching visual promoting an upcoming promotion. With all these discounts and a helpful knowledge base on their site, they've made it incredibly easy for newcomers to settle in and calmly make a purchase.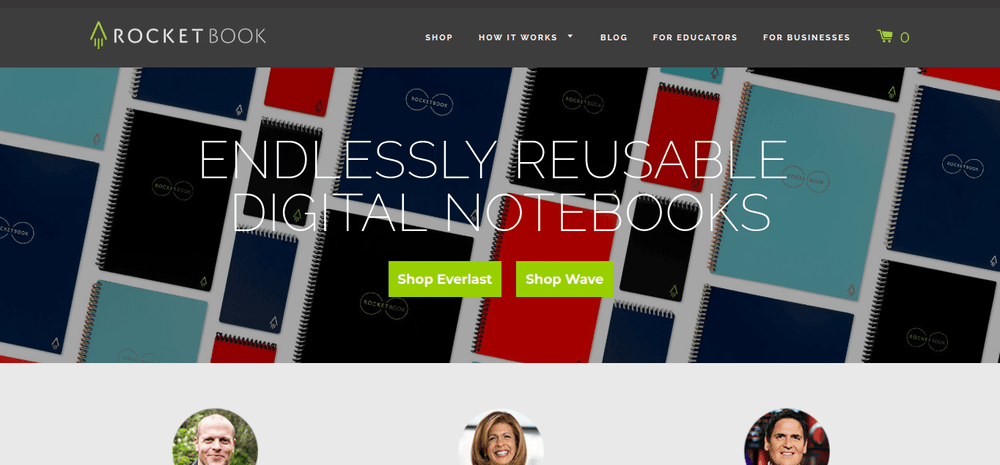 Monthly Visits: 192,039
This innovative whiz company is bringing you "notebooks from the future," and it honestly is that impressive. Their smart notebooks and pens are built with advanced tech that connects to the cloud with the capability to send your content pretty much anywhere. They also developed an app that integrates with Google Drive, Dropbox, Slack, and more.
Considering you can physically wipe clean already-saved pages, this is the notebook to end all notebooks.
It sounds almost impossible… Which is why they've designed their website to be a helpful guide. The landing page immediately links to a Youtube clip explaining the method behind their madness, and the site's menu uses text like "Be Inspired" and "Engage & Learn" (rather than, "Info" and "Options," for instance).
Monthly Visits: 180,450
You know those creative posters you've likely seen with humorous or artsy infographics on them? Well, PopChart makes them in literally every category, from birds of North America to European soccer teams to a beer diagram.
Their online approach to cornering this niche is a combination of pastel colors and typewriter font for a somewhat boutique feel. Their copy comes off as especially human; even their exit intent screen makes a pun and promises their newsletters aren't spammy. On top of it all, there's a "Save 10%" button lingering in the top right corner, basically begging you to use it.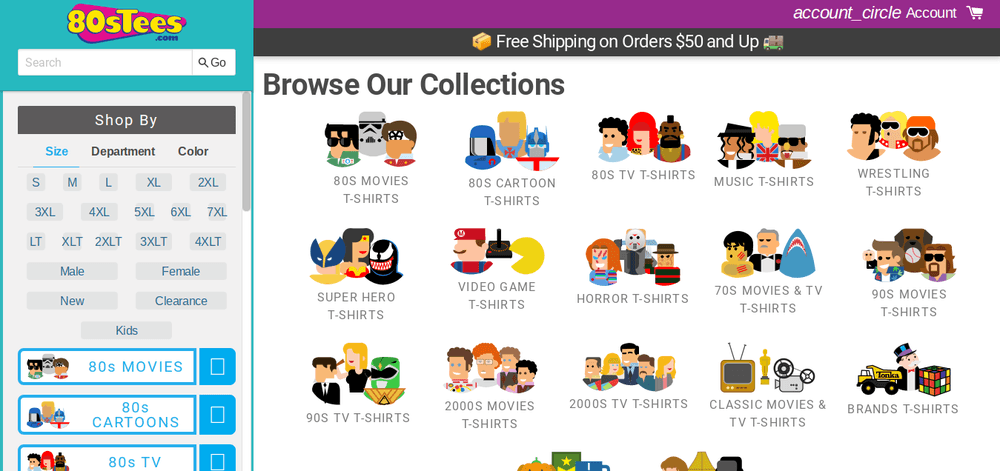 Monthly Visits: 247,358
The name says it all: Founder Kevin's long-time passion project sells T-shirts with '80s pop culture graphics. His huge stock of nostalgic clothing particularly captures the magic of the golden age of action figures.
And while nostalgia is a powerful tool in running a small business for over a decade, so is a smart online shop. 80sTees looks quite different from the other Hobby sites listed here in that it has a long scroll-through menu on the left-hand side.
Apart from its intentional comic book feel, it has one truly brilliant tool: A spin wheel where you can win a discount… As long as you enter your email first. Is there any better way to build your mailing list?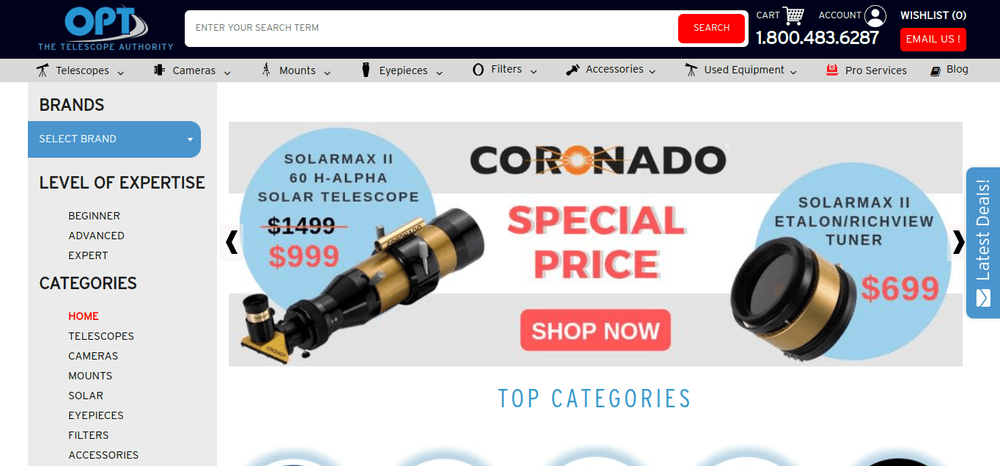 Monthly Visits: 176,032
Opt is helping experts and amateurs engage "with the universe in a tangible way" by being the world's biggest telescope retailer. Cameras, eyepieces, mounts, and all sorts of supplies can also be found in their e-commerce store.
With company roots dating as far back as 1947, part of Opt's strength has been adaptability. Currently, their 25-year-old website looks as contemporary as ever! It has a prominent search bar and a variety of calls-to-action depending on the visitor's need (i.e. "Email us," "Shop now"). Another huge pro is site navigation that basically allows you to get directly to your product of need without leaving the home menu.
Conclusion
Looking back, many of these companies have things in common. Maybe they offer top-notch support or display beautiful graphics or have an intuitive interface or their companies were started by personal interests.
One thing they definitely have in common: They're all catching the e-commerce wave.
Online sales will approach $5 trillion in 2022, and who knows where the growth will go from there? All we can say with certainty is that it's time to jump on the bandwagon, take in these lessons, and become a success story of your own!