Regardless of what stage your business is in, Shopify has a plan for you.
In fact, the e-commerce platform builder offers so many choices that it's difficult to know which one you actually need.
With the infographic below, however, you'll be well-equipped to pick wisely: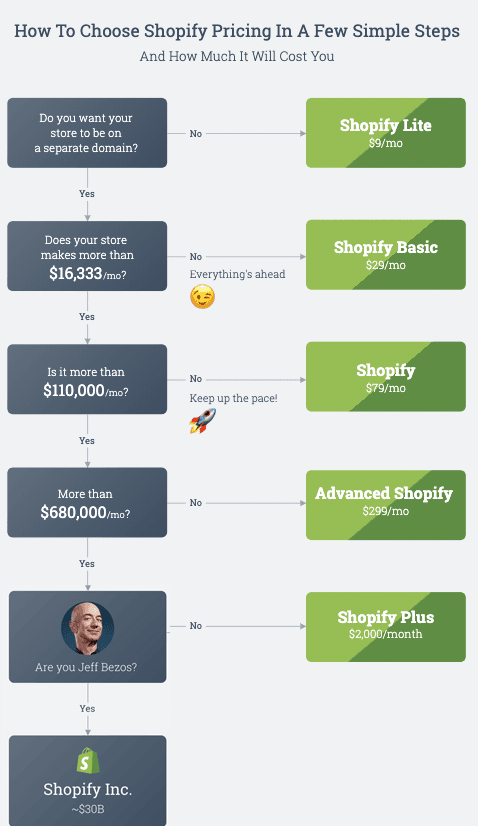 As you can see, the subscription you need depends on your current success and future goals. Let's break it down by plan a bit further:
Want To Sell Products via Your Existing Site?
… Then you may only need Shopify Lite.
It's the cheapest option at $9/month (with fees of 2.9% and $0.30 per transaction if using Shopify payments), and it offers the most basic functions.
With Lite, you won't have a separate domain for your store. Instead, you'll simply supplement your website or Facebook page with the ability to sell. Features include chat customizations, "Buy now" button integrations, and in-person credit card payments.
If you're not starting from square one and already have an audience base that frequents your site, this version may be enough to boost your online sales. Check it out here!
That said, if you want more of the benefits Shopify can offer, follow the guide below. When taking into account both your profit margins and Shopify's costs, you have to hit certain benchmarks in order to make the more advanced plans worth it. Here's what we mean:
Are Your Monthly Sales Still Below $16,333?
… Then Basic Shopify is likely the plan for you.
Until you break this calculated break-even sales point, it's probably only worth paying the $29/month for Basic. Keep in mind that same rate of 2.9% + $0.30 still applies to credit cards here (plus an additional 2% for non-Shopify payments).
With it, however, you'll enjoy a distinct ecommerce store for all your products with 24/7 Shopify Support, manual ordering capability, abandoned cart recovery, and many more essential sales features listed on their Pricing Page.
It's everything you need without breaking the bank… But once your business starts taking off, you may need to consider more elaborate options:
Is Revenue Modestly Growing, but Still Under $110k/month?
… Then the regular Shopify plan is right up your alley.
Equipped with all the aspects of Basic, this subscription further arms you with custom gift cards and professional business reports. Along with a few other additions (i.e. priority shipping prices), regular Shopify is constructed to help rising companies take that extra step into the six-figure range.
At $79/mo with slightly reduced CC rates of 2.6% + $0.30, it's a bargain relative to the Advanced plan – especially considering the minimal differences between the two. That said, larger brands should take note:
Are You Making up to $680,000 per Month?
… Then it's absolutely worth pulling the trigger for Advanced Shopify.
$299/month isn't pocket change by any means, but it will definitely help you scale your business to where you want it to be.
For starters, with Advanced, online credit card rates are reduced to 2.4% + $0.30 and – more importantly – non-Shopify payment fees are down to only $0.5%. That's a far cry from Basic's 2% rate.
You'll also enjoy perks like more staff accounts (up to 15), an advanced report builder, and calculated shipping rates that you can display on your checkout screen for added transparency.
Have You Surpassed $680K/month?
… Then congratulations! And perhaps you'll be interested in the enterprise solution: Shopify Plus.
You could join over 5,000 brands growing their annual revenue by ~126% with unparalleled customization options. Expect to benefit from multiple sales channels, high-speed processing, app integration, workflow automation, wholesale support, lower credit card fees (2.15%) and much, much more. You can even use it to create up to 10 unique stores to cater to users in different geographic areas.
The platform has an intuitive interface for maximum accessibility across your team and is thoroughly designed with the goal of scaling your business into the stratosphere.
More details can be found on their separate Shopify Plus page.
Conclusion
Over 800,000 merchants are utilizing the power of Shopify to the tune of over $40 billion in annual sales revenue. Clearly, this e-commerce path can prove immensely fruitful.
To cut out your own slice of the pie, you need to proceed strategically with the appropriate Shopify plan. So – heed the advice above, dig into your own research, and chat with the experts over at Shopify to put yourself in the most knowledgeable state of mind.
And if you do so, you'll find your business speeding down our infographic in no time!