LittleSizzle is an online store that provides printable invitations, games and everything else you may need for hosting a Baby Shower event.
The LittleSizzle story starts in 2017, when the two sisters, Ellen and Willemijn, led by a passion to create a new product, quit their jobs the same day and devoted themselves to their new company.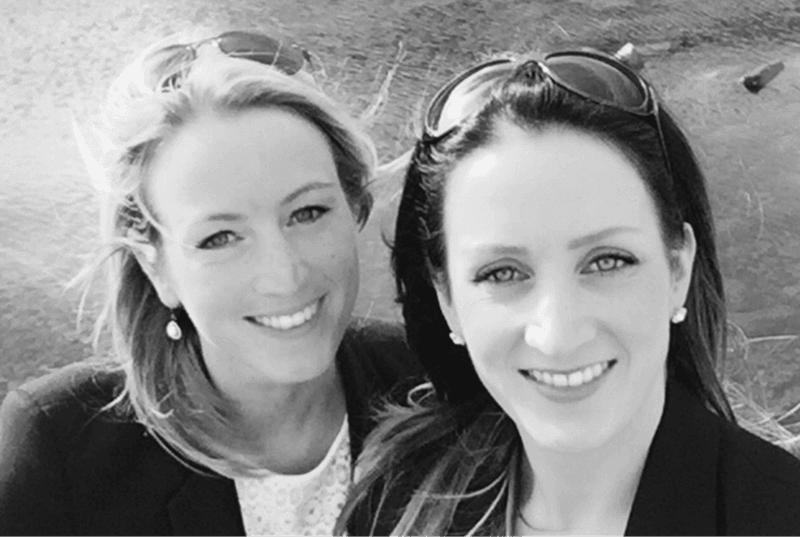 As most of the eCommerce founders, they started doing both production and marketing on their own. Though it's hard to do such different things well at the same time, the sisters succeeded at both.
They not only created fascinating well-designed products but also managed to market and sell them to 10,000's of customers from around the world!
How did they achieve this? Let's have a closer look at what they did to find out!
The Welcome Discounts Strategy
The core of a successful online store is the loyal audience you can easily reach with an offer. The only reliable way to do this right now is to build an email list.
LittleSizzle converts site visitors into email subscribers by offering a 10% welcome discount coupon via Convertful widgets.
"Our main goal for using Convertful was to have some non-intrusive and beautiful banners and pop-ups that would match our branding and that would not annoy our customers, but still would get us our leads." – Ellen van Ham, LittleSizzle
The Welcome Discounts strategy generally allows converting 2-7% of new site visitors into email subscribers.
Focusing on this single strategy allows LittleSizzle to attract almost 600 new email subscribers each month!
Another great benefit of using Welcome Discounts: it increases the store's Sales Conversion Rate.
"We can see that about 20% of our customers use our 10% discount code." – Ellen van Ham, LittleSizzle
The sisters knew the power of Welcome Discounts and tested several ways to offer them to the visitors.
The Footer Widget
One of the widgets was placed in the footer.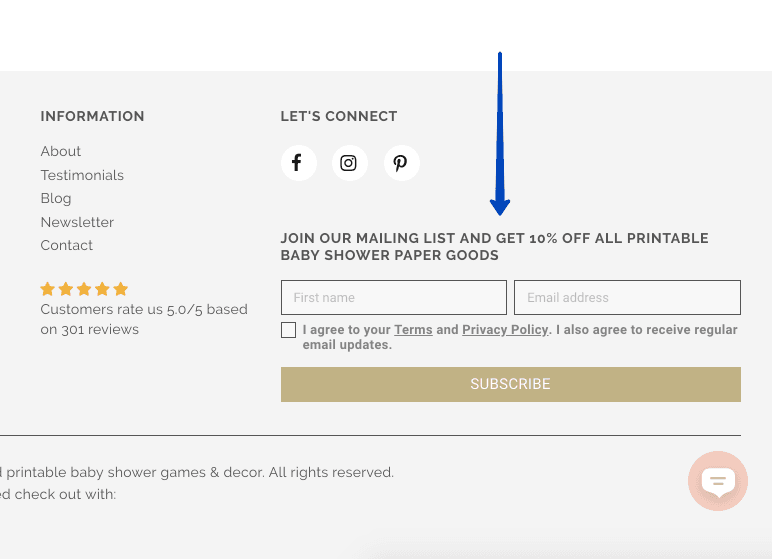 It converts a small 0.29% of impressions. It's not much, but it's a constant flow of new email subscribers, that just works on auto-pilot!
The "Join Our Newsletter" Page
Another place where visitors can subscribe to a newsletter is the separate "Join Our Newsletter" page.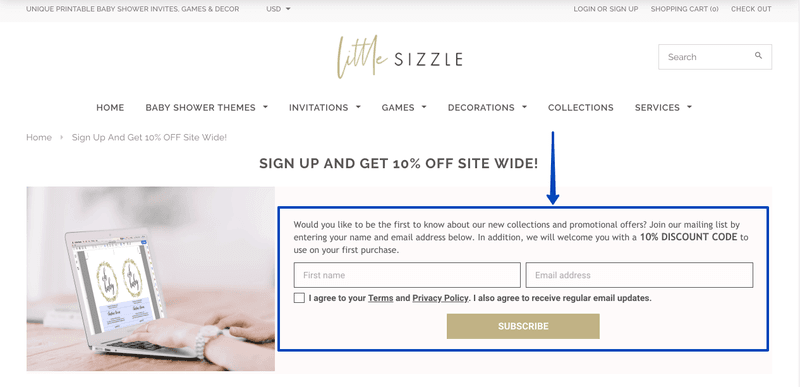 Visitors get to this page via the special "Newsletter" link in the site footer, and from LittleSizzle's store on the Etsy marketplace.
This page converts 16.04% of its visitors into email subscribers.
The "Download a FREE Sample" Page
To improve this, the sisters decided to offer a downloadable lead magnet in exchange for the visitor's email address.
They created a separate page and used the inline widget.

And it worked just great!
This page converts an amazing 30.29% of the site visitors into email subscribers.
"We direct a lot of customers from Etsy to our sample template form and our newsletter optin. That's probably why these widgets work so well, as the people that we direct, visit those specific pages for one reason only, and that's to optin and get their sample template or discount code." – Ellen van Ham, LittleSizzle
Key Takeaway: Lead magnets work great not only for blogs/magazines but also for eCommerce sites.
The Welcome Pop-up
One of the widgets, that was tested, was a Welcome Pop-up, showing only to visitors from desktop devices after they spent 5 seconds on a page.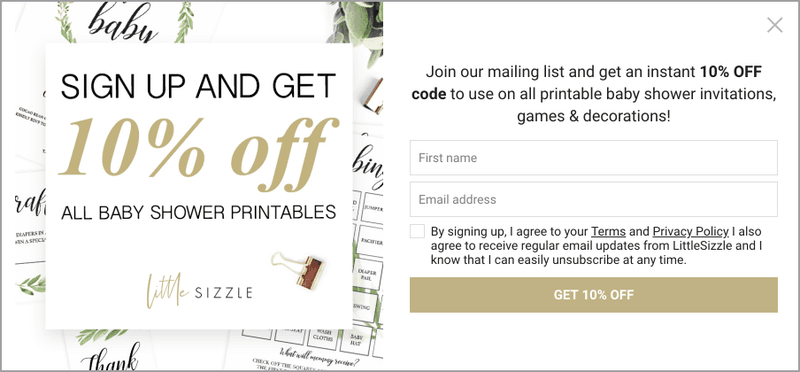 Though it converted 4.70% of visitors into subscribers, the sisters decided to replace it with something less disturbing and switched to the top floating bar.
The Top Floating Bar
The sisters designed and launched the floating bar with the very same offer.

This bar converts 0.94% of impressions into email subscribers.
"Not much," – you can say.
Yet, the power of floating bars is that most of the people don't close them, and see this offer over and over again.
Which, in fact, makes this bar the top-performing source of new email subscribers for the LittleSizzle email list.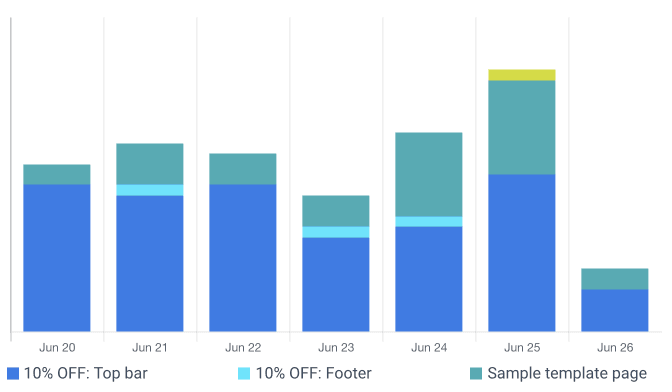 Another reason why the floating bar works so great is that it always contains the most current offer:
"We always try to have our top banner match the season we're in, so that it shows that our website is up to date." – Ellen van Ham, LittleSizzle
Summary
Offering Welcome Discounts is one of the most reliable email list building strategies for an online store.
Try creating different types of widgets (inline widgets, pop-ups, floating bars and more), so the numbers could show which works best for YOUR specific business.
To simplify this use a tool that allows creating new promotions in minutes:
"We absolutely love Convertful! With a website theme, it's not always possible to create forms/banners/popups that you like. With Convertful it's so easy to create a widget that matches our website. We can customize everything, add our branding colors, fonts and images. It's as if the forms are part of our website theme. The widgets are non-intrusive, yet add a beautiful and useful feature to our website." – Ellen van Ham, LittleSizzle