So, what is the best time to send email?
This crucial question bothers the mind of every email marketer out there. To make things even harder, whenever you are trying to find out what the perfect time to send an email is, you stumble upon different answers from various studies. Some say it's Tuesday, others say it's Thursday, and you are left clueless, second-guessing whether it's actually Wednesday after all.
To help you in this crusade, we decided to find out what the most recent email marketing data studies have to say on the subject. We dag through the data that email marketing services have available in the open. To make our research more precise, we only took the most recent data and research.
The Recent Email Marketing Data Studies
We went through 7 data studies coming from different email service providers. To make our research more thorough, we took a look at various types of reports, from industry trend reports to user data studies. Some data is more applicable to B2B while other reports are based on B2C industries.
Here's the list of data studies we looked at:
What Is the Best Time to Send Emails?
In short: 10 am for professional services. 12 pm for eCommerce. 2 pm for software/SaaS.
Clearly, the best time to send emails depends a lot on your market. Based on our research, we found out the best time to send email is different depending on the industry.
According to Infusionsoft, emails are open the most between 8 am and 12 pm and 1 pm to 4 pm. Meanwhile, emails get most clicks when sent between 1 pm and 2 pm.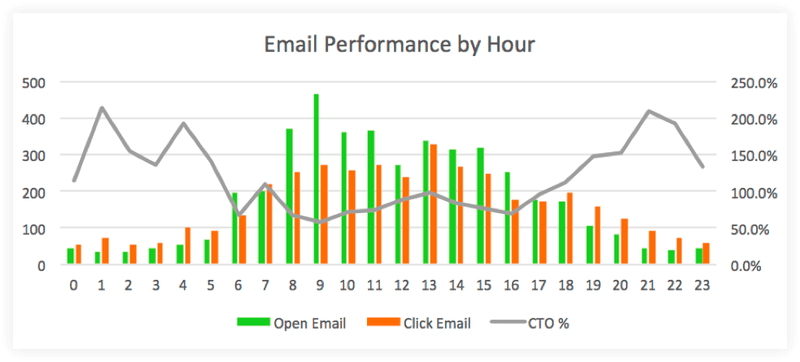 Sendinblue went even further and analyzed the data depending on the business industry. Every industry has its own best time to send emails.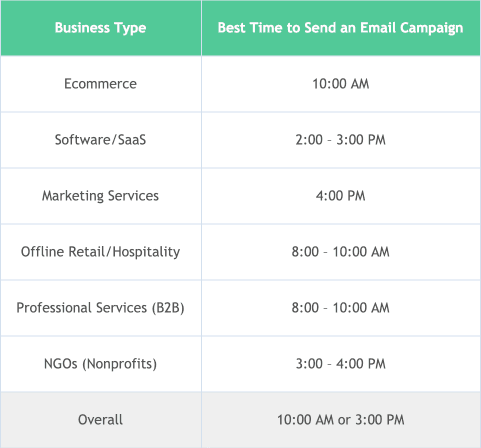 Intercom focuses more on B2B companies, and the data they collected shows the same results: emails sent between 9 am and 12 pm get the most clicks. That's only understandable: it must be the time when people come to work and check emails first thing in the morning.
HubSpot that is also mostly focused on B2B, proves the point: the best time to send emails is 10 am to 12 pm.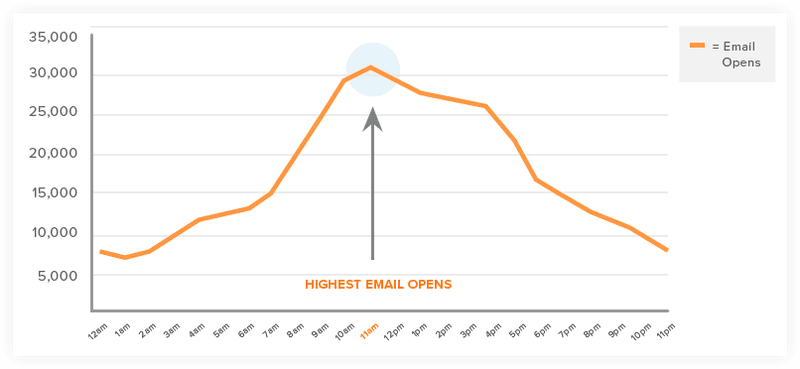 The main focus of Omnisend is eCommerce, and their data shows a completely different picture. According to Omnisend, the best hours for the highest open and click rates are 8 am and 1 pm.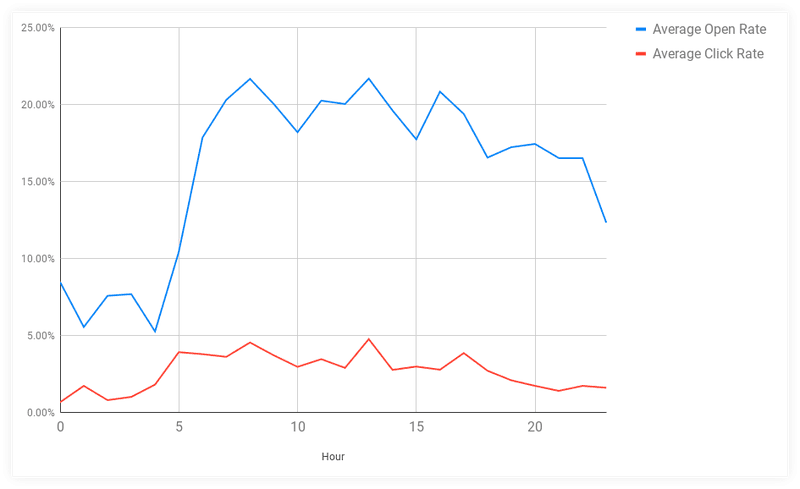 If you want to increase your chances of getting a reply, you might make use of the Yesware research. The guys at Yesware found out that this would depend on the city of the recepient. For instance, if you are sending your email to someone in New York, the best time to do it would be 6 pm …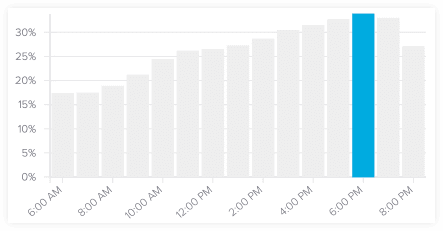 …whereas in San Francisco it's 4 pm.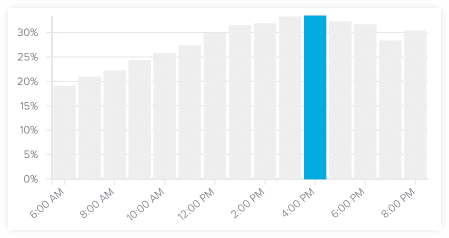 In case the email recipients are located in different cities, the best time to send an email would be from 4 pm to 6 pm.
What Is the Best Day to Send Emails?
In short: Tuesday or Wednesday.
Basically, on Monday people are too overwhelmed with emails that they might have gotten during the weekend. Besides, Monday is the day when they are planning their week ahead, having meetings, etc.
According to Infusionsoft, emails sent on Tuesday or Wednesday get the highest open and click rate.
HubSpot that focuses on B2B agrees with this trend. However, if a high open rate is what you are after, Monday might also be the best day to send an email.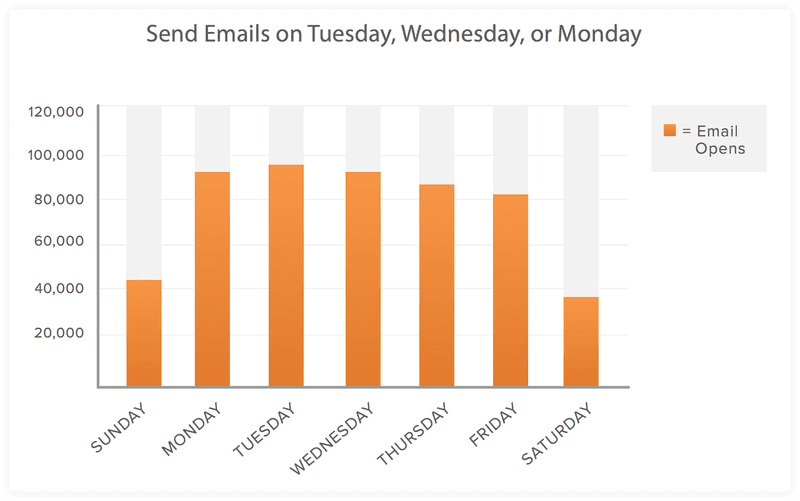 Klaviyo's data confirms that for the highest open and click rate, it's best to send your email blast on Tuesday or Wednesday. However, Klaviyo adds an important note: if you have an online store, you should also take revenue per recipient into account. Which is at its highest on Monday and Thursday.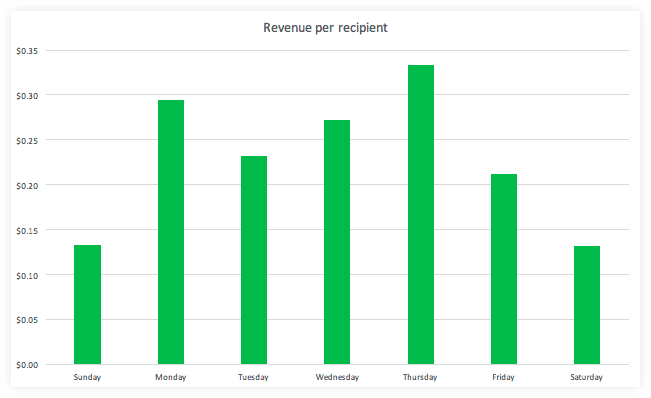 For the highest revenue per recipient rate, consider sending your email campaign on Monday or Thursday.
Sendinblue analyzed what the best day is to send email campaigns depending on the business industry. Here's what they found out.
Tuesday is best for professional services (B2B).
Wednesday is best for eCommerce, software/SaaS, and marketing services.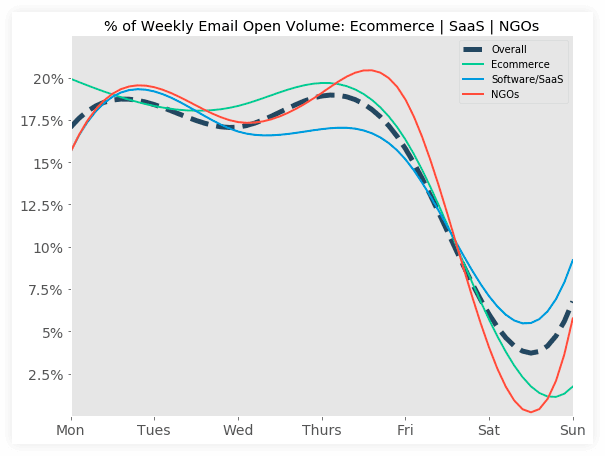 Omnisend, whose main focus is email marketing for eCommerce, tend to agree with the following fact: emails sent on Wednesday get the highest open rate. At the same time, they add that the highest click rate goes to emails sent on Sunday (!)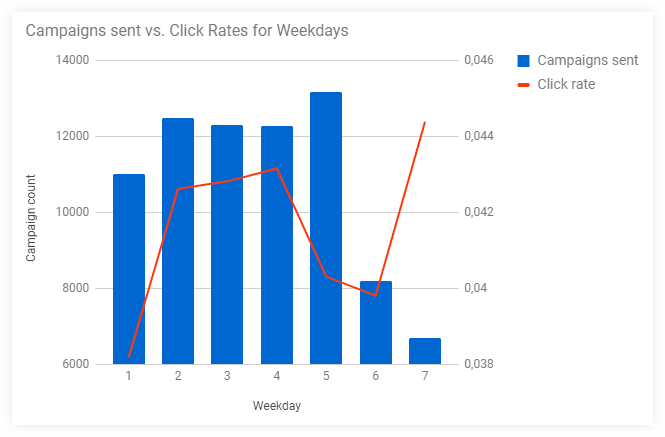 UPD Jun 05, 2019: We got a fresh update from our partner, Campaign Monitor. Based on their data:
1. The best day for the highest open rates: Thursday
2. The worst day for lowest click rates: Monday
Conclusion
You might feel puzzled or overwhelmed with all this contradictory data. So, when is it actually best to send out email campaigns?
The thing is, it depends. Things to consider here include your industry and other business factors, as well as the goals you are after. Clearly, if you can get an email to the top of your recipient's inbox during the so-called golden hour (that we discussed above), it seriously increases your chances of it being open. However, sending emails at the right time is not the only factor you might want to consider. Up your chances of getting your recipient's attention by crafting a catchy subject line or adding a GIF to your email.
My advice is: it's best to test the data on your audience and analyze the results. But while you are getting your first email campaign out there, it does make sense to consider the data from fellow industries.