When you launch a startup, getting the initial traction becomes your #1 priority. How to do this? Here are the 12 proven strategies for getting customers without spending any budgets.
1. Reach the Existing Audience
Each of us has our existing audiences. Friends, followers, neighbors, and customers of previous businesses. It's great to start with the ones who already know you and trust you.
Email, write direct messages, make phone calls, and offer the best terms to the ones who already know you. That's a great way to gain the very first buyers and to make some customer development at the same time.
Here's the great list of questions which Noah Kagan recommends asking (from Pat Flynn's "Will It Fly?" book)
How often do you <use product>?
Where and how do you decide to buy <product>?
What would make you pay for <product> right now?
What's your hesitation in not buying right now?
2. Get Published in Software Directories
Have ever searched for some software alternatives? Usually, Google shows you several AlternativeTo.com pages in the top results. This brings AlternativeTo about 14.5 million monthly visits. Definitely a great place to tell about the new alternative to your competitors!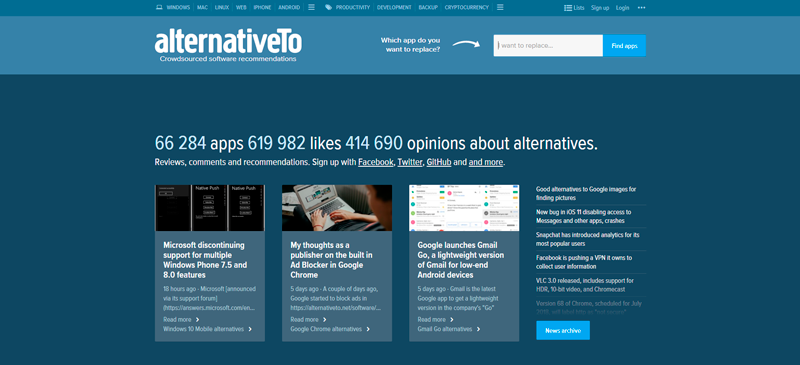 Companies like Wrike and Draw.io know this well and get TONS of free traffic from software directories.
Searching for such sites and preparing all the data required for submission can take up to a working day. So we hand-picked the top 46 software directories with the total reach of 56.7 million monthly visits. Also, we listed all the data that you need to prepare for submissions. Both are available in the single worksheet which you can grab to speed up the process.
Download your Software Directories Worksheet to publish your startup on 46 sites
3. Get Published in Plugins Directories
Platforms like WordPress and Shopify, usually provide plugins directories. These are kind of app stores, focused on a particular platform.
Own plugin page in such a directory can bring you hundreds or even thousands of new visitors each month. Usually, these are the directory visitors, discovering your plugin by search or filters.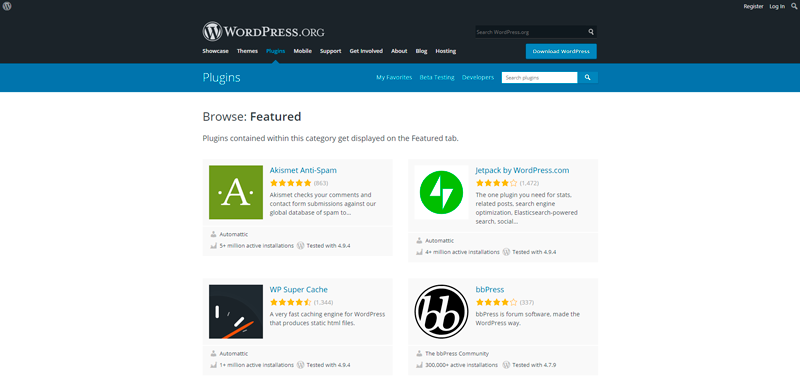 The core strategy here is to optimize your plugin page, so users could find it using the directory search. For example, I created the CodeLights WordPress plugin and optimized plugin page for the "SiteOrigin" request. In two years this itself resulted in 90 000+ active installations of the plugin.
But the best option is to get featured on a directory homepage or in some editorial pick-ups or ratings. This featuring would provide the best audience reach. For example, Shopify features Privy on its apps homepage, which gives 11% of Privy's all traffic.
4. Get Mentioned by Integration Partners
If you create an online software, one of your super-powers is integrating with others. Except that it brings new features to your clients, it's also a good platform for partnerships.
For example, if you integrate with MailChimp, they can list you in their Integrations Directory. Even if a company doesn't have such a directory, they can mention you on a particular page, as ConvertKit does.
The best option is when a partner talks about you on their Facebook page or newsletter. Reasonable when you bring them some features which are essential to their customers.
5. Announce on Product Hunt
My friends from Statsbot got their initial traction with Product Hunt. It's a powerful channel when you create something new and fresh. And even better if you offer it for free.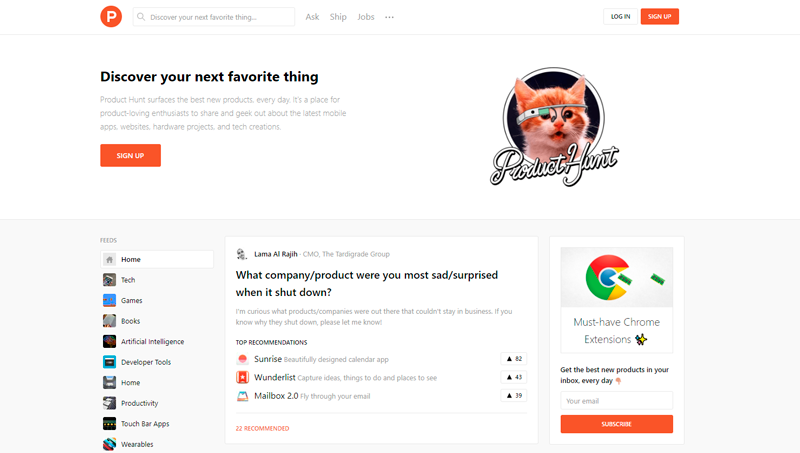 Except for Product Hunt, there are several more sites that you can announce your launch at:
6. Cooperate With a Strategy Partner
Think about it: somewhere there's your Perfect Strategy Partner. A large company whose clients need your services right now. And cooperation with which would complement each other services.
Once you find your Perfect Strategy Partner, choose your "champion" in it, an employee to work with. Find a natural way to reach them and provide something unique. Though the best option will be to get an intro, sometimes a direct approach can also work well.
7. Promote on Discount Sites
One of the best traction channels for an early stage startup is discount sites, like AppSumo. It is Groupon for Startups with valuable limited-time offers.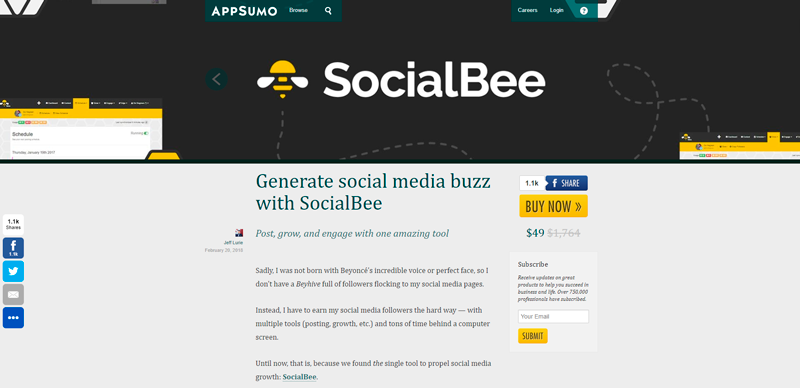 Usually, such promotion requires you to provide some lifetime deal. What's more, a discount site will take a HUGE margin cut from the payments. But it's worth it! If you prepare everything properly, you'll get several thousands of sales in a week.
Here's an excellent tutorial on how to prepare everything for the promotion on a discount site.
Here's the set of top five discount sites worth checking if you decide to promote using this channel:
8. Create Side Software Tools
When it comes to HubSpot, their #1 super-power is lead-generation. And a huge part of it is their tools solving different tasks and routines for their target audience.
For example, they created MakeMyPersona, a step-by-step wizard for creating a Buyer Persona. This is relevant for the HubSpot's target audience. And as the last step, it requests visitor's email, adding one new lead to the HubSpot's CRM.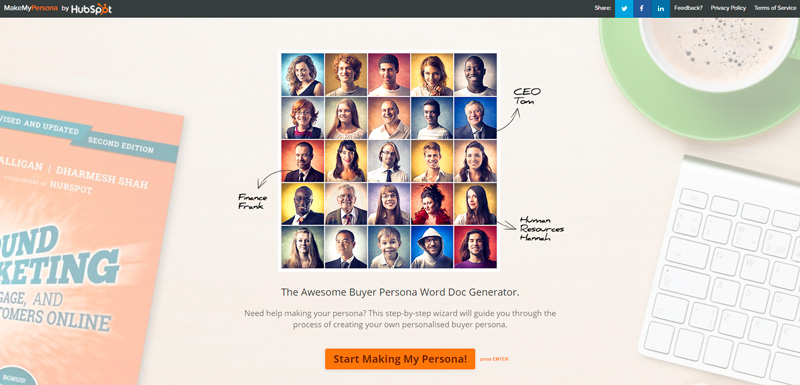 HubSpot provides many tools of this kind. Each one has its own separate domain, based on the relevant search request. Smart move to get the best search engine rankings!
9. Answer Quora Questions
Quora is one of the best places to share your expertise. It gets half a billion visits monthly, 76% of which come from search engines.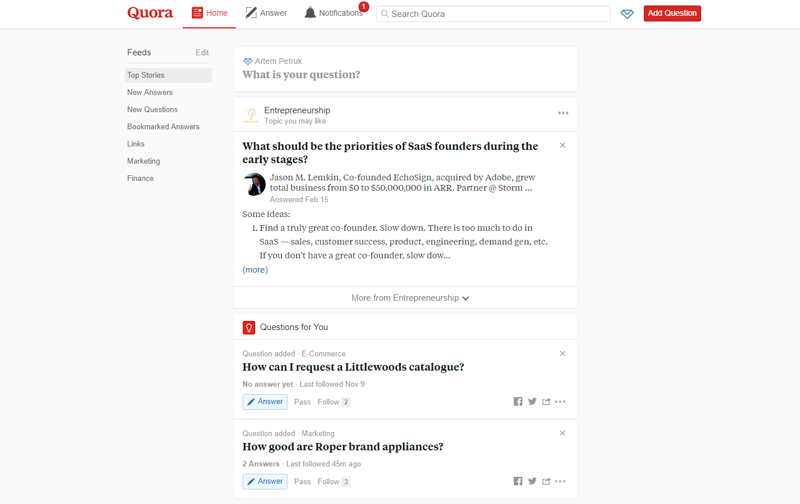 Which questions your customers ask before buying? Find them on Quora and provide the best, rich answers. It's OK to promote your products and services in the very same posts. Take a look, how Noah Kagan does this.
10. Launch an Affiliate Program
The best part of an affiliate marketing is that you don't need to invest your own money.
Usually, there are two types of affiliates you would like to work with.
First are the opinion leaders, influencers with a broad audience. Their recommendations itself leads to a sale. The hard part: it's a long road to get such a recommendation, as influencers reference only the products they use themselves.
Second are the professional affiliates, who earn money by promoting products and services. They are usually connected to affiliate networks like ShareASale.com. Which means you can sign-up there to start your affiliate marketing campaigns.
11. Use the Product Branding
If non-customers can see your product in use, brand it so it could promote itself. This can be your company logo, website URL or even a simple "powered by" link.
For example, free Convertful widgets contain the "powered by" link at some place. And when they appear on a site, its visitors can learn about the company and the product.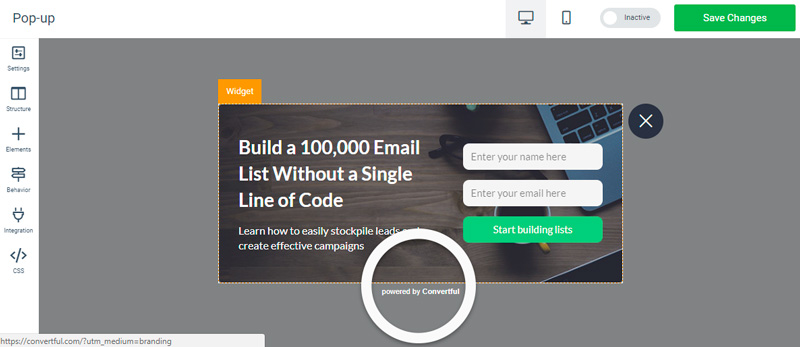 Intercom goes one step forward and generates a unique landing page for every "powered by" link. This special page contains customer company name, which makes it even more personal.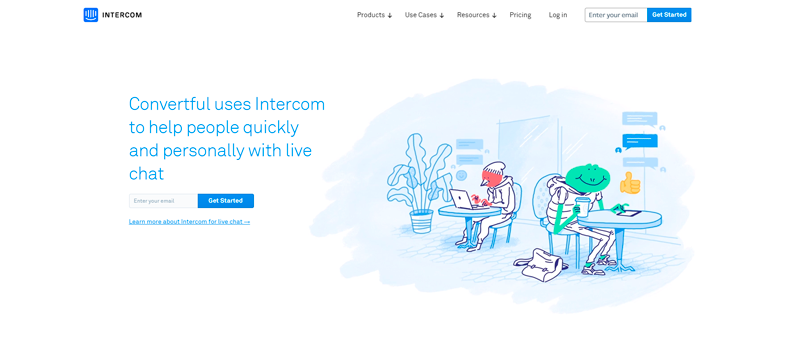 12. Speak at Conferences
Though this needs some preparations, public talk is a great way to earn trust from your audience.
Last year I spoke at the WordCamp Moscow on how to increase a blog conversion. Hundreds of people learned about Convertful, and we attracted new customers and partners.

Bonus: Research Your Competitors
Every business niche has its own rules and secrets, which become visible with time. Definitely, there are some unusual ways for you to attract customers at $0 cost, which are not covered here.
So make a small research that should be extremely useful for your business. Write out your top-5 direct competitors and check out their incoming traffic sources. You can use SimilarWeb for this. I bet, that you'll gain some interesting insights!
Download your Software Directories Worksheet to publish your startup on 46 sites