Probably you've heard before that "the money is in the list". This means that growing your mailing list is one of the best things you can do for your business to thrive. You might have also heard that "email marketing is dead", but, unlike the first saying, the second one couldn't be further from the truth. 
Your email list holds your most important prospects and your loyal customers. After all, nobody would give you their email address if they weren't interested in what you have to say. Other than that, 73% of Millennials (the generation that buys online the most) say they prefer to contact brands through email. 
That being said, it's highly important for your business to grow your email list. If you're just starting out, this article will be a valuable resource to help you increase your return on investment. It is said that for every dollar you spend on email marketing, you get $32 in ROI. This may seem like an exaggeration, but you'll find it to be true once you grow your email list and start sending out the right messages. 
But what do you need to create your perfect mailing list? We'll go through that in the next section.
What do you need to create an email list?
1. Understand your Audience
The first thing you need, in order to create your email list is to understand your audience. What makes them tick? Why are they interested in your product? What problems can your product solve for them? 
In order to grow your email list from the ground up, you need to first create the profile of your ideal customer. What are their demographics and interests? Where do they work? What is their education? Are they decision-makers in their company? 
All the questions you can answer about your typical, ideal customers will help you communicate better with your audience. 
But how do you do this? Well, in the beginning, it's all about trial and error. Make A/B testing a common practice with your opt-ins and the emails you send. Once you have a few contacts, surveys will help a lot. Create a quick survey for your audience and offer them something in return to complete the survey. It could be a discount, some resource document, or any freebie that does not affect your profit. 
The answers you get from A/B testing and running surveys will help you understand your audience better, making it easier to target them specifically with your emails. Any data you can collect (while respecting your user's privacy, of course) is important in order to know the audience you're trying to reach and how you can help them.
2. Get an Email Marketing Service
Once you start collecting emails, you need to have an email marketing service from which you can contact the members on your  mailing list. We recommend starting off on the right foot by sending any new members a welcome email. 
If you're not sure about which email marketing software you should pick, we recommend Platformly.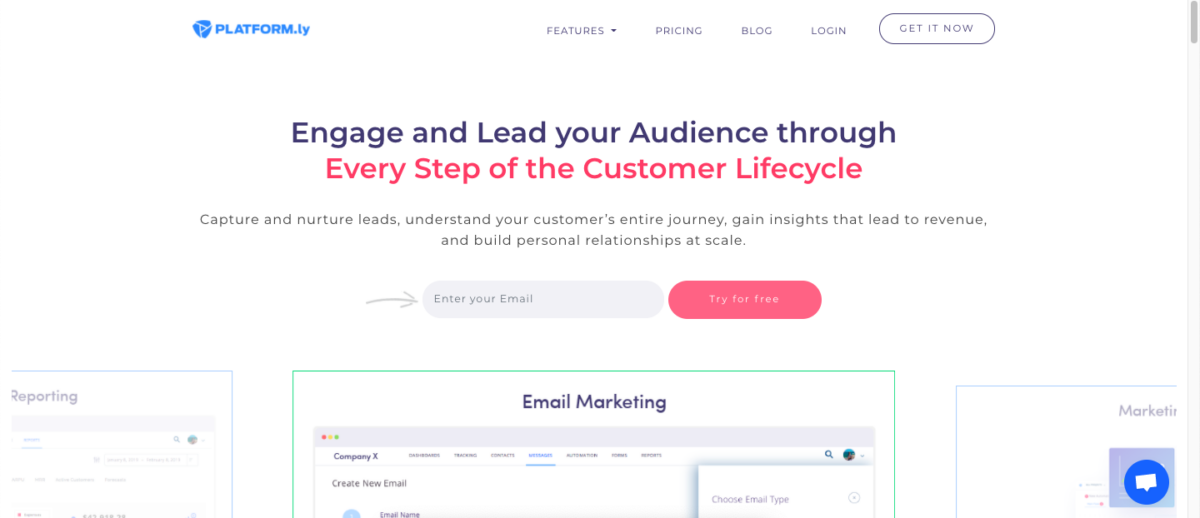 Its tools integrate perfectly with Convertful, which makes it easier to add contacts to your CRM and register every interaction. Its segments and tags tools also allow you to adapt each message to their recipients according to their responses, actions, and demography. 
You see, Platformly is not just another email marketing software. It is an all-in-one suite of tools that allows you to capture new users and develop relationships with them, automating most of your messages so you can put the time you'd spend on emailing to better use. 
Of course, there are many other tools that you can use as well: Constant Contact, ActiveCampaign, Mailchimp, Campaign Monitor… All these integrate with Convertful, so you've got plenty of choices. 
3. Offer Something of Value
One easy way to collect the email addresses of the right customer is to offer something valuable in exchange for their contact details. However, beware of irrelevant stimuli. 
The best thing you can offer is something related to your product and your niche: white papers, guides, ebooks… Educational and useful material is always a good offer, and while it is not expensive for you to produce, it is useful to r your customers.
At the same time, when you offer this kind of material, your prospects will learn more about your product and your vision, and that will keep you at the top of their list when looking at similar products or services. So, picking the right thing to offer in exchange for an email address is essential. 
As an example, if your service is SEO, you should offer something like a guide to link building, or the best way to find new SEO clients. Cheatsheets also work quite well: this type of offer is usually called a lead magnet.
Lead magnets are offers you make in exchange for a prospect's email address or phone number. You can learn more about lead magnets here. 
Now that you know what you need to create your mailing list, we'll go through a few examples of how you can use Convertful in order to get more contacts. Do you not have Convertful yet? Check out how to sign up for Convertful here.
How to use Convertful to grow your email list
With Convertful, you have many options to grow your mailing list into a reasonable database of possible leads. We'll go through just a few examples of how our opt-in forms can help improve your engagement and grow your email list from the ground up.
Giveaway Widgets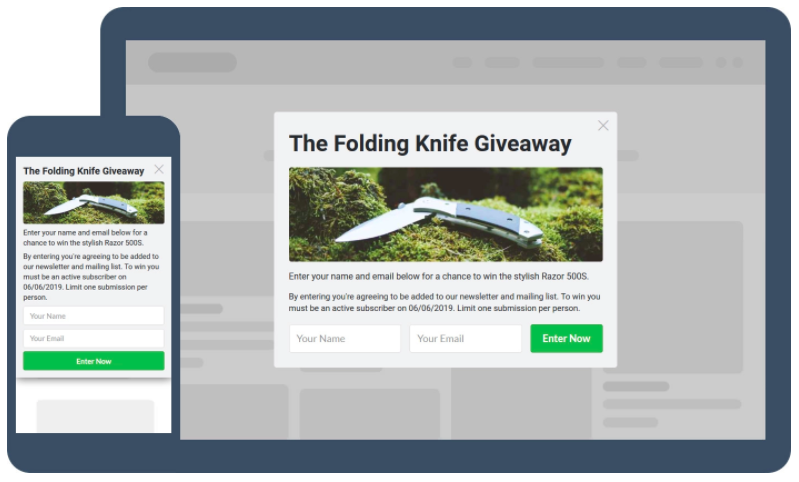 This is a widget that can be highly effective if you use the right incentive. With this widget, you're inviting visitors on your website to enter a giveaway using their name and email. It's that simple. 
However, as we mentioned previously, it is important to offer the right thing in return. In this example, the giveaway offers a folding knife, which could be appealing if your ideal customer is someone that loves the outdoors and does a lot of camping or similar activities. 
Only you will know the best prize to giveaway in this contest according to what you sell and the services you offer. This is just another reason why it's important for you to know your audience.
Welcome Discounts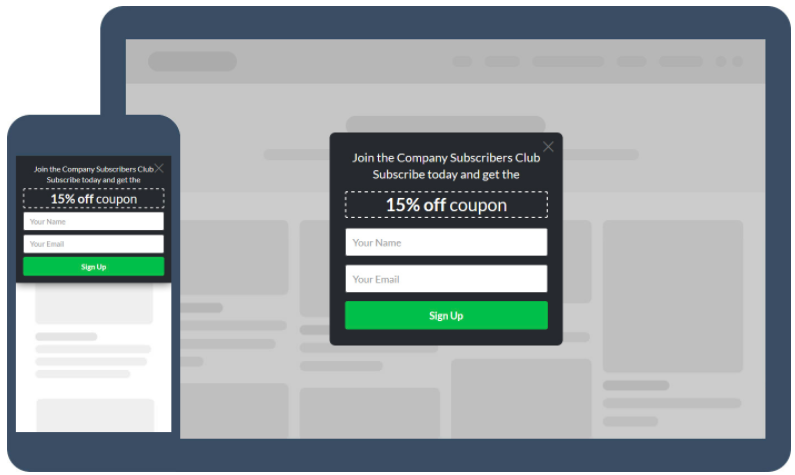 If you want to increase both your mailing list and your conversion rate at the same time, go for a welcome discount opt in. This is a great way to target your ideal customer: after all, if they weren't interested in your company, a discount for your products or services would make absolutely no difference to them. 
When a prospective customer enters their details for a coupon, they're showing interest. And the best customers you can get are the ones that are interested and engaged with your brand. 
There's always going to be unsubscribers, but that's not always a bad thing. You only want the right leads on your list. This coupon is the perfect way to make sure that the only prospects you get on your mailing list, are those that will eventually buy from you.
At the same time, discounts will increase your conversion rate: who doesn't like a discount? It can be the little push that your visitors need to start buying and become loyal customers.
Gamification Widgets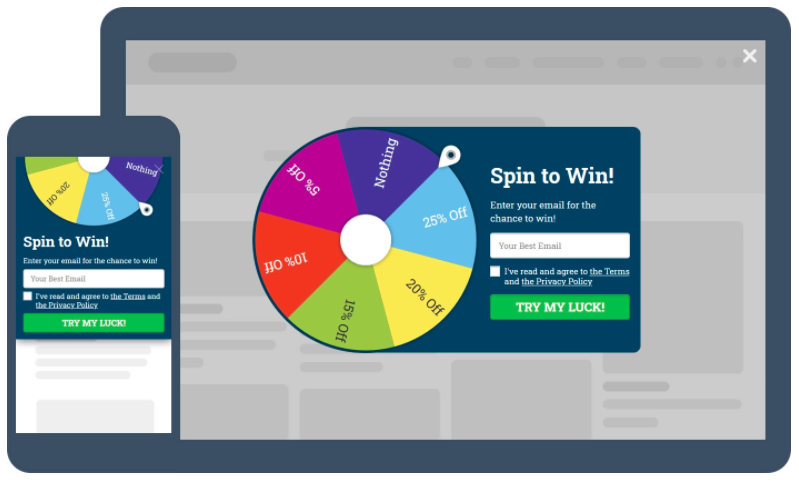 This type of widget is an all-time favorite among our customers at Convertful. It makes it fun to subscribe to your mailing list, and it will offer your visitors a discount most of the time. 
Gamification widgets are always exciting for users. Another similar example is the Scratch Card: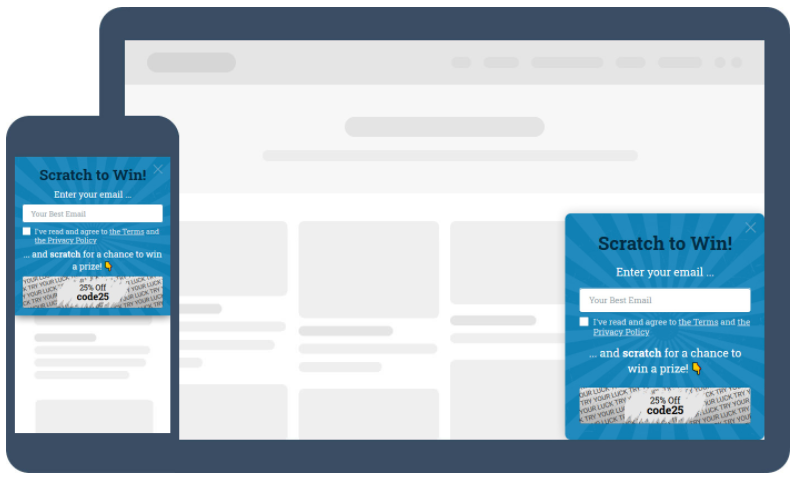 Once again, this gamification widget makes it seem like you are really lucky, and what's best, it's fun to get to the prize. If you think about the gratification users seek on social media (every time they scroll through, there's something new to catch their attention), this is a similar way to engage with users on your website while triggering an emotional response. In other words, gamification makes your users happy and will keep them coming back.
Follow Widgets
Sometimes, your visitors don't want to give you their email straight away, and that's alright. But in that case, you have to give them an alternative action to complete. For that purpose, follow up widgets are great.
This type of widget works by offering your users two options: they can subscribe to your newsletter, or check you out on social media. This way, not only are you growing your mailing list but at the same time, you are giving   visitors an opportunity to engage with you on your social accounts. 
After all, social media can help you keep in touch with your users easily, avoiding all the hurdles that might plague email. We mean low deliverability, landing on the "Promotions Tab", low open rates, or even worse, going to spam.
Nothing like that happens on social media, so you can cover all your bases by using this type of opt in. It should also be noted that your email service provider matters a lot when it comes to landing in the Inbox, and that's why we recommend Platformly.
Wrapping Up
So, as you can see, it's not difficult to grow an email list if you use Convertful. Using our tools, you'll find your email list grows quickly and steadily. You can even use our WordPress plugin, and that's it – an opt in form on your website, ready to collect contacts, in just a few minutes.
So, what are you waiting for? All our opt in form templates are easy to customize, allowing you to adapt them to your business and your goals. Sign up for Convertful today, and if you use Platformly, you'll find it's even easier to increase your return on investment by crafting compelling emails that get sent out automatically to your subscribers.