Email list building is a challenge for everyone that does email marketing. However, not every contact is going to be good for your email lists if you don't make sure those prospects are in your target audience.
Also, buying email lists never works. Even if the contacts you get are verified, those users aren't expecting your emails, so they won't give your emails a second thought, not to mention that you may also be in breach of privacy data laws that are applicable in your country. In order for prospects to give consideration to your emails, they need to expect your emails.
This is why you need to use your website to help build your email lists, which is easy to achieve if you use Convertful. We have plenty of different ways to get new contacts using our opt-ins. In this article, we'll go through a few examples of how you can use Convertful opt-ins on your website to help grow your email lists.
a) Regular Subscription Forms
If you are unsure about adding forms to your website, this is the easiest way to begin. These forms are straightforward: your users fill in their email address if they want to receive updates, and that's it.
You might think these forms are too simple to work, but it all depends on how you use them and the message you convey. If you show the value of your content, users will want to get a peek at whatever you're sharing. So, read on to find a few examples of subscription forms that you can get with Convertful.
1. End-Page Bar Offers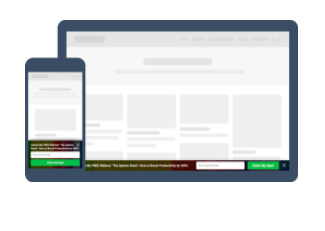 This is a bar that shows at the end of your selected pages. Why would you add a bar at the end of the page? Well, someone who reads your whole page until the end is more likely to want to subscribe to your email updates. This type of bar is usually successful because you're targeting users who are already interested in what you have to say. You can use a text like "Do you like our content? We have so much more to share with you!". This type of message in your end-page bar shows value in the content you are going to send and reinforces the idea that your messages are useful and valuable. Plus, the reader already likes what he/she read – otherwise, they wouldn't have made it to the end of the page.
This end-page bar has the advantage of not being as intrusive as a popup, which might increase your success in collecting email addresses.
2. Simple Subscription Scroll Boxes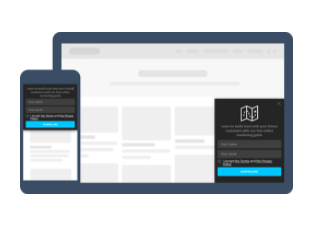 Scroll boxes show when the user scrolls on a page. These are quite effective as a less intrusive method just like the previous example of the end-page bar. These forms are commonly set up to trigger as you scroll.
The content you add on any of these opt-in forms needs to be well thought out, captivating, and straight to the point.
In this case, I would recommend using bold colors as well, so your scroll box will pop against the background. All your opt-in forms should stand out, but in cases that there's not an immediate reward, this proves especially true. I would recommend a similar text to the first example: if your users scrolled, then chances are very good that they want to go on reading. This is a perfect opportunity to get those users' email addresses.
3. Simple Subscription Welcome Screens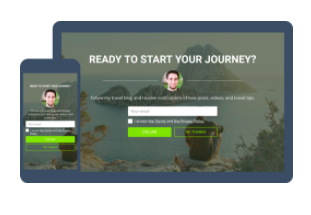 Unlike the first two examples in this list, a welcome screen is not discreet at all. It covers the whole screen for your users, being extremely attention-grabbing. If you're not afraid of being intrusive, a welcome screen is perfect to make an impression.
When it comes to when you should use a welcome screen, it depends entirely on your marketing strategy. It is a bold move, but if your content is relevant for the users, they are not going to be bothered by it. Quite a few popular websites use welcome screens and they're highly effective.
When it comes to the text you're going to use, remember that the welcome screen is going to fill up the whole screen for the user, so your message should be loud and clear. In this case, you are not offering anything other than getting your updates, so your text must reflect the advantages of being part of your mailing list.
If you are unsure of what text to use, you can use one of Convertful's templates, which are designed to convert. However, if you feel more comfortable using your own message and setup, these templates are easy to edit to suit your needs.
4. Inline Subscription Forms

Inline forms are quite discreet in their look, as they are built-in inside the content. They are minimally intrusive, but still can achieve converts as they are in line with the text your users are reading. Just like any opt-in, its goal is to get the users' attention, and inline subscription forms achieve that without feeling foreign.
After all, these forms do not disrupt your user experience, which can mean that sometimes they're easy to ignore. However, the fact that they integrate seamlessly into the text makes them more effective for some users. It complements your content while bringing attention to the form.
If you want to add something to your user experience without compromising it, an inline form is the perfect way to do it.
b) Welcome Forms
Welcome forms are another way to collect users' email addresses. These tend to be a little more intrusive since they show right after users get to your website, but they're also highly effective. By welcoming users to your website, these opt-in forms help improve user experience and give you a chance to collect email addresses swiftly before the users leave the website.
Welcome forms help reduce abandonment and decrease the bounce rate. Even though it is commonly believed that users hate popups, that is not exactly true: users dislike popups that do not add to their experience. This means that whether or not your welcome form works or not depends highly on the message you're showing, the design of your form, and what you are offering in exchange for your users' email address.
In this category, we'll provide two examples of welcome forms that can help you grow your contact list.
5. Welcome Mats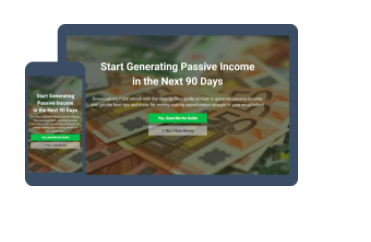 Welcome mats are the main kind of welcome form you'll find on popular websites. They are highly effective in converting users into subscribers, with an efficacy rate of 4.5%. In the image above, the offer is promising: who wouldn't want to start generating passive income in only three months?
This is the kind of thing you need to remember when creating your own welcome mat. You need to show your future subscribers that what you are offering is valuable enough to make it worth sharing their email address.
Usually welcome mats have a yes/no dynamic, but the way the question is posed should ensure that the answer is yes for everyone. In other words, you've got to make an offer nobody can refuse. Of course, you cannot make everyone give you their email address, but, then again, not everyone fits your buyer profile.
6. Welcome Discounts Popups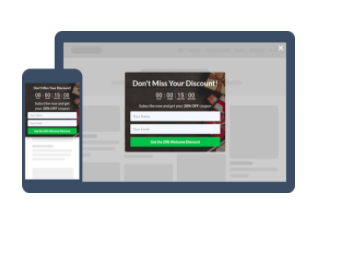 A welcome discount helps to get visitors to give you their email address. Another advantage is that, even though everyone likes discounts, your users will only be interested in your discount if they already had an interest in your specific product or service. In this example, there's even a countdown, and that urges visitors to act immediately.
A welcome discount popup will promote your product or service and entice users from the beginning. The promo code is a little push towards the sale that might make the difference between just another visitor or a new customer.
It's easier to get email addresses from your users if you're offering something meaningful. A lot of the time, promising more content might do the trick, as is the case when signing up for your newsletter is the goal and, at the same time, the offer. However, that is not always going to work, especially if you're still trying to establish yourself in your industry.
c) Content
If you have a blog post that you can convert into a guide, or maybe an article that is quite useful for users but that doesn't receive many visits, content-based opt-in forms are perfect for you. The goal is to deliver extra content that is related to the page in which you set up the opt-in, usually as an ebook or a pdf file.
It's not difficult to convert your staple posts into gated content. All you have to do is take care of the formatting of your content and then just add the opt-in to a page (or several pages). This technique puts your content to good use by exchanging it for users' email addresses.
If you need an extra incentive for your users, either because your company is just starting or your website is not getting that many visitors yet, content is easy to create and re-use.
We're going to show you two ways you can use gated content to increase your contact list.
7. Content Lockings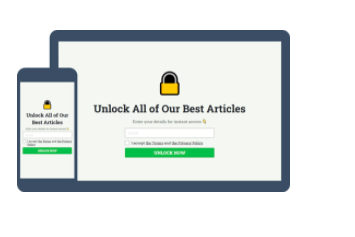 Content lockings are highly effective opt-in forms. The user just needs to enter their email to unlock the premium content, and this is an opt-in that ensures that the leads you get are actually interested in your content and, therefore, your product. This also makes it easier to keep users that are just looking for freebies away from your mailing list.
After all, you want contacts, but they should be the right ones – there's no use in having thousands and thousands of email addresses in your list if they are never going to make a purchase. This is why it's important to have the right incentive to increase the size of your mailing list.
Locking a bit of your content is a smart strategy: if the user is not willing to share their email address to access your premium content, they aren't really interested in what you have to offer.
8. Targeted Content Upgrades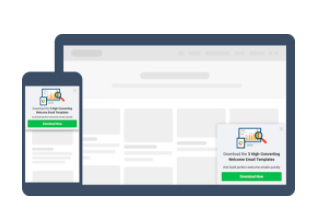 Content upgrades can appear as scroll boxes or inline forms. According to our data from Convertful, the conversion rate for content-based forms is around 3.2%. It is quite a reasonable rate when you think about the likely hundreds or even thousands of people that visit your website every day.
This content offer gives your subscribers immediate value. In return for your content offer, you get email addresses of potential customers. It is important to provide content related to the page where users can find your opt-in. The bigger the relevance, the higher are your chances of getting new contacts through this form.
But why are these content upgrades called "targeted"? Because of their relevance towards the page in which you apply this opt-in. In this case, the content offered serves as a bonus according to the page content – a freebie that relates to the page in which you find it, making it highly effective.
d) Exit Intent
Exit intent opt-ins are very common in SaaS websites and tech-related pages. The way they work is twofold: on one hand, they help keep the user on the website; and on the other hand, they collect user data so you can contact users even after they've left.
This is the last chance for you to make a good impression, so you should use the best possible offer on this opt-in. In this case, relevance is obviously key, but it's not as important as converting. What we mean is that if you have some cornerstone content you think would fit here, go for it. Since the user is trying to leave your website, you should make them an irresistible offer to at least get their email.
9. Exit Intent Popups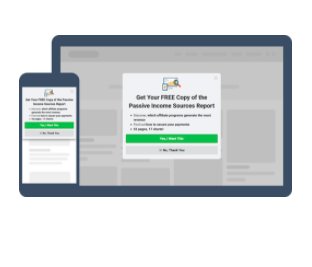 You probably have seen one of these popups before: you just got to a website, but it seems like it hasn't got what you are looking for, so you decide to leave. But, wait: before you leave, maybe you'd be interested in this free resource?
Ebooks are the perfect offer in this case. Not only are they a valuable resource if done right, but they'll remind the user of your brand even after they left your website. There are plenty of lead magnets you can use in this type of popup, from discounts to case studies and everything in between.
What matters is reaching out to your visitors before they get a chance to leave. If they are interested in products similar to yours, they'll want to return.
e) Deadlines
Deadlines are used frequently in advertising and marketing to help enable a conversion. It's easy: you show a countdown clock until the end of a promotion, and that creates a sense of urgency for your prospects. That sense of urgency usually leads to purchases due to the fear of missing out. If you say you have a limited offer, visitors will be more likely to purchase.
Deadlines are also easy to implement anywhere: on emails, on your website, and, in this case, in your opt-ins. However, we recommend being careful with overusing this resource: if you keep saying we're on the last day for an offer, your users will stop believing that there is a deadline because it does not hold any water. As usual, we recommend honesty.
10. Deadline Bars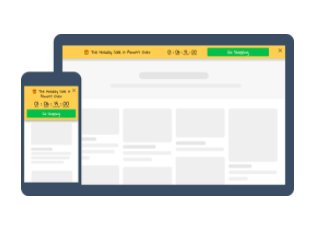 If you want to make sure your deadline works, we recommend using a bar with a countdown clock for the end of the offer. Deadline bars are a popular solution, especially in eCommerce websites. If you have a limited offer to promote, these bars can be placed all over your website to make sure your visitors know about it.
Using Convertful, you can create a deadline bar with a countdown clock that is going to be shown both in desktops and mobile devices. Responsiveness is essential when it comes to opt-ins: there are many users that will look for you on their mobile phones, so you want to make sure your deadline bar works in every device visitors use to access your website.
All in all, deadline bars are perfect to strike a high conversion rate and increase your mailing list.
f) Gamification
Gamification is a trend that's been related to marketing for a while now. If you're not sure what we're talking about, gamification is interactive games, for example, a  scratch card, a spinning wheel, or similar types of game-like interactions.
This type of opt-ins is our favorite because not only are they interactive, they are also fun and enjoyable for users. If you want to offer an unforgettable experience, gamification is the way to go. It adds a playful element to your opt-ins that your users will enjoy, much more interesting in our opinion than a simple popup asking for contact information.
The goal is the same: to get your visitors' email addresses. However, if you go about it using gamification, you'll make it a lot more fun for your users than just filling out a form.
11. Spin-To-Win Gamification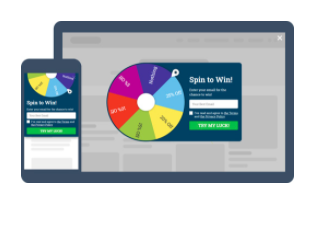 A perfect example of how you could use gamification in your opt-ins, is spin-to-win popups, which are great in making your visitors excited about your offers. Everyone likes an easy game, especially if you always get a prize. The spin-to-win technique is highly effective for adding a fun element to your opt-ins: if you want someone to do something, it's a lot easier to convince them to do it if you make it enjoyable.
This is why gamification is the most sought after method for getting email contacts. By making the process fun, users won't even notice you're asking them for something.
12. Scratch Card Gamification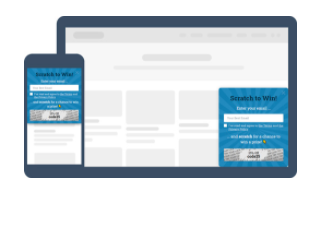 Who doesn't like scratch cards? They are another great example of how gamification is successful in getting you more contacts and prospects. Virtual scratch cards are fun and surprising, and they're an innovative way to grow your mailing list.
If you use Convertful, it's easy for you to use gamification to help you collect email addresses and details about your visitors. We recommend using scratch cards especially if you run an eCommerce store: they're a great way to share promo codes and discounts on your items.
Wrapping Up
If you use Convertful, you might already know a few of the examples of the opt-ins we showed in this article. However, it's never too much to remind our users of all the possibilities we offer.
If, on the other hand, you don't know Convertful yet, we recommend trying it out. It's easy to set up on any website. If you use WordPress, you can add any opt-ins to your website using our official plugin, making it even easier to implement. We also have a free plan if you need time to test our tools before investing.
No matter your business, if you have a website, we have the perfect conversion tool for you. All you have to do is sign up for an account, install the plugin, and pick the opt-in form that best suits you. Simple as that!