This week we're introducing the webhook integration feature along with some UX fixes and improvements listed below.
New Feature: Webhook Integration
To send the form data via webhook, click your widget's button to open its settings and add the on-submit action called "Send webhook":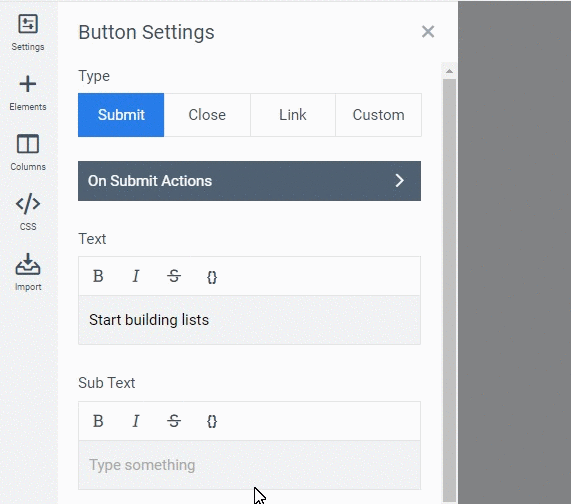 It will open a canvas where you can specify the targeted webhook URL, choose request type (HTTP POST or URL GET parameters), and specify the fields and values you want to send: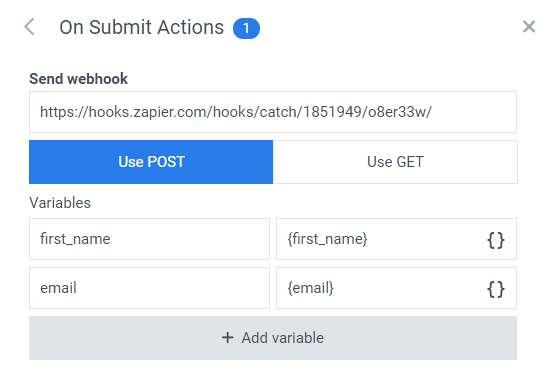 Improved Features
Updated cookie format for Chrome 80+ ("samesite=none" parameter) that caused browser console notifications.
Updated integration drivers due to technical requirements and API updates for HubSpot, MailChimp, InfusionSoft (Keap), Drip, ConvertKit, SendLane, Aweber.
Added support for HubSpot multi-line dropdown, with the ability to add value to the field instead of replacing it.
Improved "Share buttons" element to send the URL that includes multiple URL parameters.
Improved layers order for multiple pop-up widgets on the same screen (Welcome Screens are now always above the Pop-ups).
Fixes
Fixed White Label features: connection via sub-account, non-needed notifications, visit limits count.
Fixed A/B variation for inline widgets, now any variation's shortcode (or embed code) will show all relevant and active A/B variations.
Fixed notification for reaching the billing's visits limit.
Fixed date picker in countdown timers and targeting options for the Safari browser.