As consumers, we see limited-time offers all the time. However, creating and communicating a good limited-time offer is not as easy as it seems. To make it work, there are a few things you should know.
In this article, we'll offer a few tips to benefit from this marketing tactic. Truth is, it doesn't have to be complicated. You'll find limited-time offers to be very effective when it comes to creating FOMO – fear of missing out. 
FOMO is a great argument for sales. Customers want to get the best deal, if the offer is good enough and you throw in the element of missing out on a great opportunity, you will find people rushing to buy it.
What Are Limited-Time Offers?
Limited time offers are discounts, sales, or other kinds of opportunities that, as the name suggests, are limited in time. Think something like "30% off this week only", or "two for the price of one until Sunday." 
It's a win-win situation: sellers win because they sell more, and customers win for getting a good deal. Limited time offers are a great way to get stock flowing out, and they are usually on for a short period. Many online businesses use this kind of offer several times a year. They can refer to fixed dates like Black Friday or be personal offers like a birthday discount. 
Sounds good right, but how do you put this into practice?
In this next section, we'll give you a few ideas and examples of limited-time offers you can start using today. Not every one of these offers are going to fit your business, depending on your niche and target audience, but we're sure a few will be suitable. Let's move on then.
When To Set Up Limited-Time Offers
Holiday-Related Events
This kind of sale can be done for virtually any product. Holidays include:
Seasons of the year 

Christmas

Thanksgiving

Halloween

Fall/spring/summer break

Back to school… and so on.
If you think about it, there's always an opportunity for a holiday campaign. Of course, some products are more sellable at a certain time of the year, but we'll discuss seasonal offers later in this section.
Anniversary Sales
Your business milestones can be an opportunity to celebrate with your customers. By celebrating, we mean offering discounts, of course. You can create a coupon code for your anniversary week. Then, advertise it to your mailing list, on your social media… and on your website. A floating bar like this one is great to share your offer: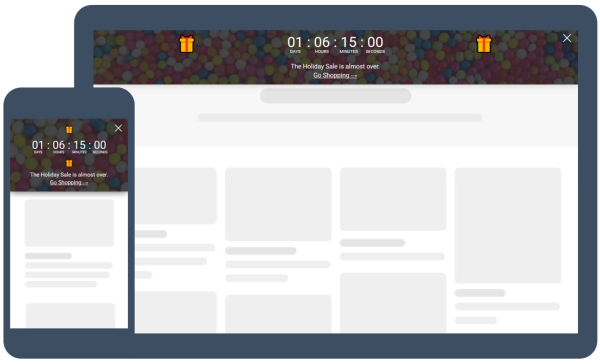 As you can see, the floating bar has a countdown. Limited time offers are even more striking if you add a countdown! This makes customers and visitors know that they need to act fast.
Of course, you can't use a countdown timer every time you launch a limited-time offer. It looks like a cheap gimmick if a user sees the same countdown several times.
Inventory Clear Out
There's always that item that you swore would sell quickly but then ended up stuck in your warehouse for ages. Every eCommerce store has this kind of issue at one point or another, so we might as well deal with it. And a great way to deal with stock that is difficult to sell is by offering a discount on products that are not easy to sell.
You can also have products from previous seasons that you need to get rid of so you can use that space for new items. That's when an inventory clear-out comes in handy: you sell everything you have in stock to get new stuff for your customers. 
You can achieve this by using discounts, BOGO (buy one get one, or two for the price of one), coupon codes for specific products, and other tactics. The point is to keep the campaign short and sweet – you want to sell your inventory fast in this situation, at a competitive price. 
Seasonal Product Sales
We mentioned seasonal products before. These have a peculiarity: they sell a lot during a specific time of the year, but other seasons are slow to sell.
Let's say your shop specializes in parasols. You get a lot of sales in spring and summer, but as soon as the weather gets cold, sales start to dry up. 
This means you must create a campaign specifically in winter to sell your product so that your sales stay consistent all year round. People who are interested in your product will run for that limited-time offer, as they want to buy it anyway. The difference is that in winter your prices get better for customers. 
You can do this every year if you want. At the same time, people won't stop buying in summer because they use your product in summer. This is one of the secrets for all year-round sales when you sell a seasonal product.
New Customers
Welcoming new customers is great for engagement, as it ensures that they will not forget about your brand. Offer a coupon code for their first or second order and set a date for how long they have to use that coupon.
You can also attach that offer to new subscribers on your mailing list. A discount gives visitors a reason to subscribe to your mailing list, and it is also a good way to push for impulse purchases. The user might just be browsing, but if your limited-time offer catches their attention, you can get a sale easily.
Customers' Birthdays
Most people like to treat themselves to something special on their birthday. Seize the opportunity to get a sale by sending your customers a limited-time offer for their birthday. 
This will allow you to celebrate an important date with your customers while getting your product front and center in their minds. Plus, a limited-time offer calls for quick decisions. If they wait too long, they'll miss the opportunity.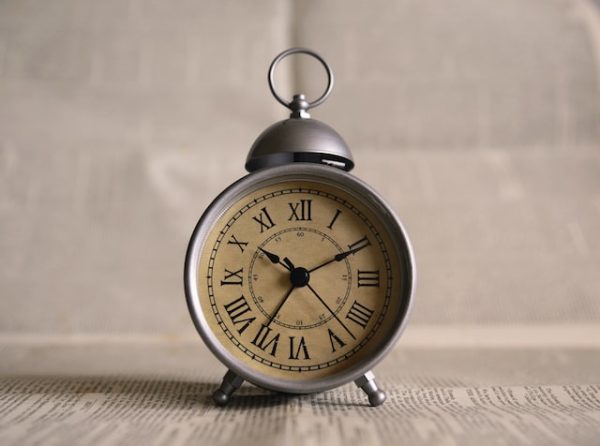 How To Create The Perfect Limited Time Offers
Now that you have a few ideas about when to apply these offers, we'll give you tips on creating the right limited-time offers – not too salesy, not too casual; well, you get the picture.
Limited Time Sales
This one is simple: offer a discount on a selection of products for a short period of time. That's the essence of limited-time offers: sell fast for a short period of time. 
An easy way to remind website visitors of your offer is a simple pop-up. Set it to show for the duration of your offer and make it clear that this sale is only available for a limited time. 
Don't be afraid to tap into FOMO, especially if you use a pop up for all visitors. You can also use the offer as a way to get your visitors' email addresses – help them join your mailing list so they'll be aware of other offers, company news and new products they might be interested in.
Convert Visitors Before They Leave
When a visitor is about to leave your website, that is an excellent opportunity to share a limited-time offer with them. It might seem counterintuitive, but this tactic allows you to make the most of every website visit. 
Your visitor might be leaving because they think your product is too expensive or that shipping costs are too high for their budget. By displaying a limited-time offer on a pop-up right before they get the chance to leave, you are assuring them that their concerns are unfounded and allowing them to reconsider.
Free Shipping
Free shipping is a great tactic for sales, especially when it is a limited offer. We all love to save, and this offer ensures you'll save on your purchase by paying no shipping fee. 
You can also offer free shipping on purchases over a specific value, but for this limited-time offer to work, it's better just to offer free shipping on every product. If you're rushing customers to buy, there shouldn't be many conditions for them to enjoy the offer. 
Keep your offer simple.
Use Psychological Triggers
It is commonly thought that pop-ups on a website are annoying and create bad experiences for visitors. This thought has some merit, but it only applies if you don't know how to properly  use this marketing tactic. Bad pop-ups can create a bad experience, but pop-ups that are done well and at the right time are a powerful tactic to get leads and sales. 
Part of what makes a great pop-up is using psychological triggers. This means something like "you're invited to our exclusive sale" or "be the first to grab this special offer" can increase your conversion rate. 
The first example creates a feeling of being special. We all like to be part of a small club. Plus, we all like saving money and getting a better deal than others.
In the second example, the trigger is urgency. We all like to be number 1. Users will run for it if being the first means a better deal.
Re-word Your Deal
There are certain formulae that we're tired of. One of them is "today only". Of course, you can have an offer only for a day, but we recommend using another expression. 
A great example is "24-hour sale". It says the same thing but makes it sound different. Also, you can set an offer for "4 days only" if you don't mind compromising on the urgency.
Odd numbers also work very well. Let's say it's your company's 11th anniversary – why not set an offer for "11 hours only"? 
These options will make your offer stand out from all the noise.
Create A Teaser For An Upcoming Sale
Customers must know about your limited-time offer if you want customers to participate. Therefore, a teaser in your main media helps increase engagement with your offer. 
You can send an email, put a story on your social media, and a banner on your website. Ideally, the offer should be available everywhere your customers are. SMS marketing is also a tool you can use.
The secret of a good teaser is to let customers know what to expect, making them excited about the upcoming deals. This allows customers to plan ahead, thinking about products they previously wanted to buy but that they considered too expensive.
In your teaser, you can show off the most wanted products from your sale, enticing customers to be ready to shop when your limited-time offer starts.
Wrapping Up
These tips will help you set up limited-time offers for your business that allow you to get that extra push in sales. You can combine the ideas from the first section with the tips from the second part to create the perfect offer for your business.
Creating and advertising a limited-time offer does not have to be difficult. Plus, if you use Convertful, you can set up a pop-up, a countdown floating bar, or any other kind of widget to advertise your offer at the right time.
What do you think? Let us know in the comments. You can also find us on Facebook, Twitter, and LinkedIn.